It's the most magical time of year again: kumquat season! These teeny tiny citrus fruits are short-lived in stores and markets so get some while you can (just close your eyes, grab a handful and pretend you don't see the $10 per pound price tag as you jam them in your pockets and walk out of the store). Luckily, you don't need very many to make this bright cabbage kumquat slaw.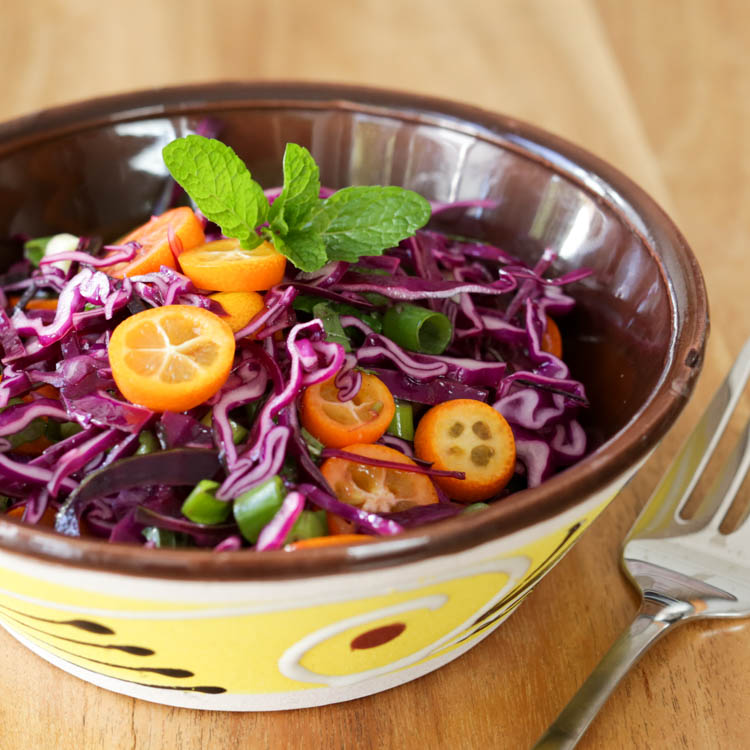 If you've never had kumquats, you are in for a treat! They are one of my favorite fruits. Unlike other citrus, the skin is the sweet part and the juicy part inside is incredibly sour. Don't peel them, ferchrissake; just pop the whole thing in your mouth and chomp. Spit seeds out as necessary.
Your mouth will pucker at first but then relax as the oils in the kumquat skin starts to massage you with sweetness.
Whoa. Got a little fresh there.
Kumquats are often candied and used to decorate cakes, or used to make cakes and tarts on their own. This slaw is a little sweet and savory and goes fantastically with these chunky beef tacos, or with fish (try it with baked salmon or on fish tacos).
If you have no fresh mint, use some cilantro or parsley but the mint is delicious and unique. Try it some time.
For another citrus-and-cabbage combo, peep my "Winter Salad" with grapefruit, cabbage and arugula.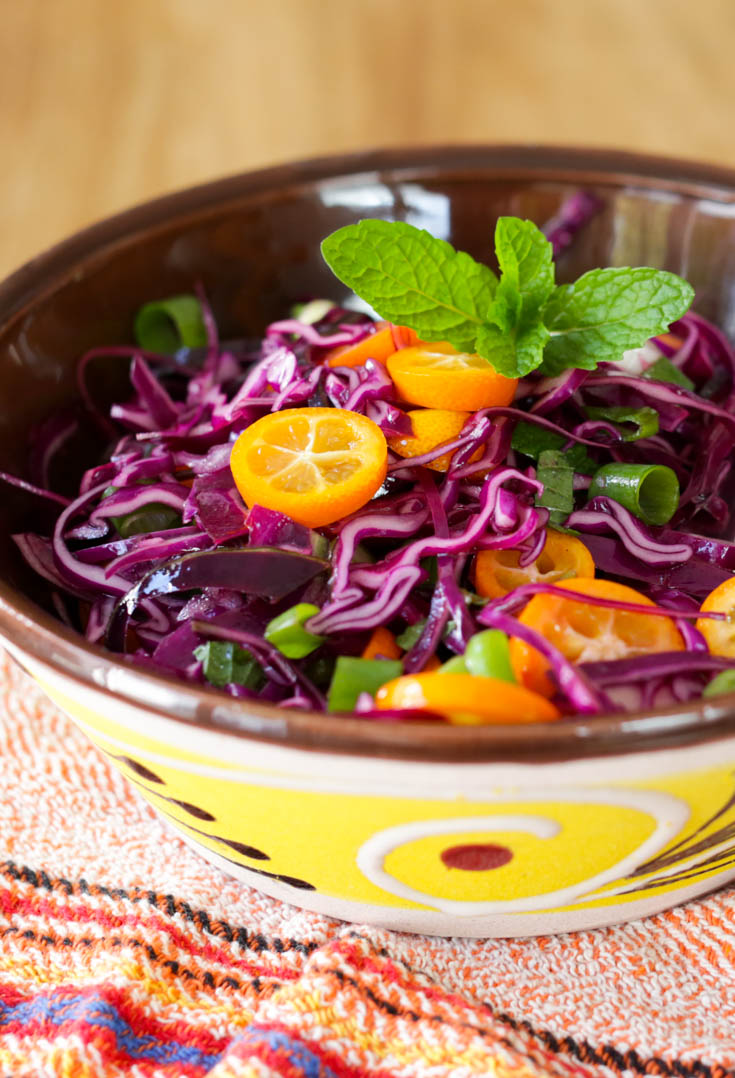 Print
Cabbage and Kumquat Slaw
1/4 head red cabbage
1/4 teaspoon salt
handful fresh kumquats
1 teaspoon apple cider vinegar
1 teaspoon neutral oil (canola, safflower, avocado)
1 green onion, sliced
1 tablespoon fresh mint (or other herb, see notes above)
Instructions
Thinly slice the cabbage to get about 2 cups of shreds. Mix with the salt. Use your hands to toss it around and really get it mixed well. At this point, you can refrigerate the cabbage for up to 4 hours before continuing.
Slice the kumquats with a very sharp knife and use the tip of the knife to flick the seeds out.
Slice the green onion and chop the mint.
When ready to serve, toss everything together. Garnish with more mint or some reserved kumquat slices