These chunky beef tacos might look familiar — they're a ripoff of Chile Colorado, but that's usually made with pork. These are a simple and a great way to use beef stew meat (besides in beef stew, though if you want that, I have two: vegetable beef stew and beer beef stew).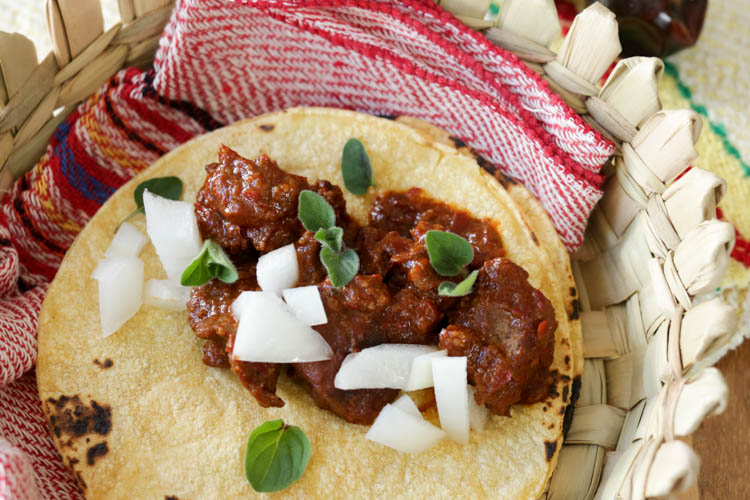 Chile colorado is also usually made with guajillo, ancho, and/or pasilla chiles — all are various dried chiles. When I made this the first time, I used guajillo (because I always have them; they're my favorite) and cascabel peppers (left over from my hot sauce recipe testing) and we liked it so much, I won't ever change.
And while these are the type of tacos I'd also usually serve with a simple-but-necessary garnish of diced onion and fresh cilantro, on "picture day" I was all out of cilantro so I garnished with fresh oregano as you can see … and it was good! The oregano has a woodsy sharpness that blended well with the earthy, cooked-down chile sauce on the meat. Try both!
I serve this as tacos with charro beans and a simple cabbage slaw (this cabbage kumquat salad is perfect), and the tortillas, duh. But you could stick it into some big-ass burritos, too. Or a quesadilla.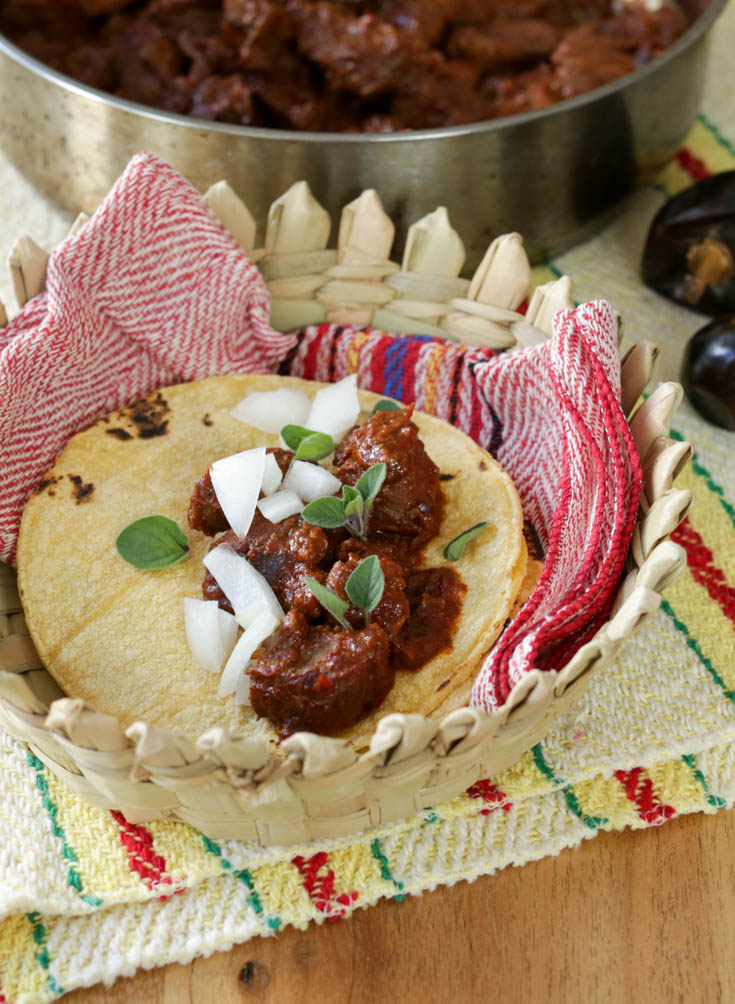 Print
Chunky Beef Tacos
3 guajillo chiles
2 cascabel chiles
1 cup chicken broth
3 cloves garlic, peeled
1 pound beef stew chunks
1 tablespoon masa harina (or 2 teaspoons all-purpose flour)
1/2 teaspoon salt
1/2 teaspoon pepper
1 tablespoon lard or bacon fat
1 bay leaf
Instructions
Rinse the dried chiles and pop the stems off. Shake out the seeds. Tear into chunks and add with chicken broth to a small pot. Cover and bring to boil. Reduce heat to simmer.
Meanwhile, toss the beef cubes with the masa, salt and pepper.
Heat the fat in a deep skillet over medium-high heat. Once hot, add the beef and brown for about a minute. Stir and brown again on the other side.
When the peppers have simmered for about 5 minutes, pull them out and put into a blender with the garlic. Add 1 cup of water and blend until smooth or fairly smooth. Strain the remaining cooking liquid (the chicken broth) and add that to the blender.
Add the chile sauce and bay leaf to the meat and stir to deglaze the pan.
Cover and simmer about 45 minutes or 1 hour until tender, stirring every 15 minutes or so. If it begins to look dry, add a little water. Once meat is tender and sauce is thick, it's ready!
Serve with tortillas and beans, or as a stew