Burritos! Not breakfast burritos; I'm anti-breakfast burritos. But big ass, beany, cheesy, meaty burritos? Now we're talking.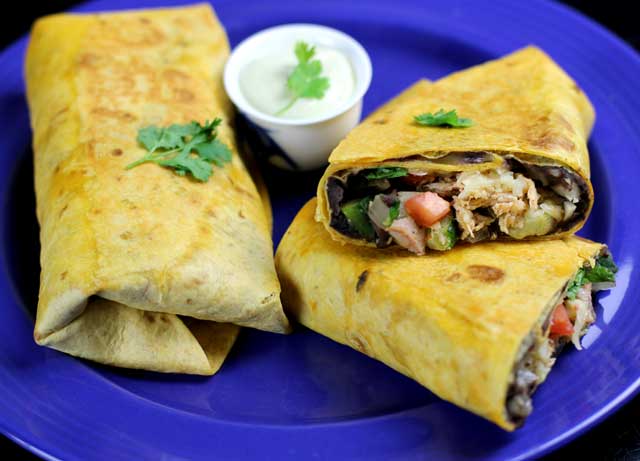 I'm sure it's obvious that you could fill these babies with anything your heart desires and your fridge contains. In my case, that was some black beans that became refried beans, some frozen chicken breast that became shredded chicken, some pepperjack cheese, some sauteed vegetables, and one lonely tomato chopped with a sprig of cilantro.

If you want to make a bunch of burritos for lunches throughout the week, you can! And it's easy.
Set up an assembly line with all your fillings (meat, cheese, beans, cooked vegetables) and roll up a bunch of burritos.
Freeze them.
Microwave (or I guess you could bake but that would take a while) for about 2 minutes, covered in a damp towel or napkin, until hot throughout.
Add any fresh vegetables like tomatoes or lettuce now, and hot sauce. Voila! A quick and easy lunch! And pretty healthy, too!
In the video I used a poached, shredded and seasoned chicken breast like in this chicken enchiladas recipe. You could use carnitas or picadillo, too. Here's how to make refried beans, too. Oh and Mexican rice. And some pico de gallo. You could even use some hummus for a fusion burrito. A furrito. Sorry 'bout dat.
Burritos Video
Big Ass Burritos Recipe – Printable!
Print
Big Ass Burritos
2

large (10″) flour tortillas

1/2 cup

refried beans

1/2 cup

cooked, shredded chicken

1/2 cup

sauteed mixed vegetables (zucchini, onion, poblano was my choice)

1/2 cup

grated cheese

1/4 cup

chopped tomatoes or pico de gallo
Instructions
Spread half the beans out on the center of each tortilla, making a squarish shape and leaving about two inches all around.
Put the meat, sauteed vegetables, and cheese in the center of the beans, lengthwise.
(Add the tomatoes and cilantro now only if you aren't freezing these for later.)
Fold up the bottom of the tortilla to cover the filling, fold in the sides, then roll over to close it up.
Heat in a very lightly oiled skillet over medium-high heat for a couple of minutes on each side to melt the cheese and toast the tortilla. If you are making a bunch of burritos at once, you can lay them on a baking sheet, seam side down, and bake at 350ºF for about 10 minutes.