Carnitas means "little meats" in Español and I presume that's because by the time it's done cooking, you're faced with a big pot of tender, tiny shreds of garlicky pork meat, perfect for filling tacos.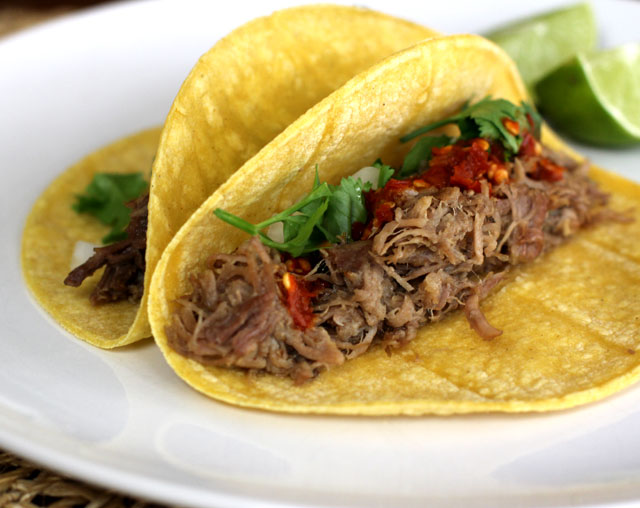 Native to the state of Michoacán, traditional carnitas are covered in lard and cooked down for hours.
Because a huge vat of lard isn't something most people want to cook with in these Moderne Tymes, I make my carnitas by simmering the pork until tender in water and spices, then using the rendered fat to do a final fry. This is why you'll need to use a fatty cut of pork (shoulder roast) for this recipe, and not a lean cut like loin. Well, I guess you could use a lean cut, but it would probably turn out a little on the dry side of things and I can honestly say that nothing messes up a good taco quicker than a dry filling.
Have some corn tortillas hot and some cilantro and onion chopped and ready to top your tacos and it'll be just like those street tacos that all the chain Mexican restaurants are peddling now. Pickled red onions are a nice touch, too.
How to Make Carnitas Video
Carnitas Recipe – Printable!
Print
Carnitas
3

–

4

pound pork roast (boneless or bone-in)

1 teaspoon

cumin seed (or

1/2 teaspoon

ground cumin)

1 teaspoon

ground coriander

1

orange

1

lemon or lime

4

cloves garlic, chopped

1/2 teaspoon

salt
water
To serve: corn tortillas, cilantro, onion, hot sauce
Instructions
Cut the pork into about 2″ cubes, cutting around the bone as necessary but reserving the bone.
Add the spices to a large pot.
Zest the orange into the pot and then add the juice.
Add the lemon juice, garlic, and pork cubes. (Put the bone on the bottom.)
Add the salt and enough water to just cover the pork (4-6 cups).
Bring to boil over high heat, then reduce heat to medium-low and simmer 3 hours or until the pork is tender and most of the water is cooked off. No need to stir, just keep an eye on it to make sure it's simmering but not boiling.
When the water is almost cooked off, remove the meat from the bone if necessary and discard the bone.
Increase the heat to high again and let the pork render the rest of its fat and fry for a few minutes, until some of it is crisp and brown. Stir and fry until the meat is fairly finely shredded and browned.
Serve hot in corn tortillas with cilantro, chopped onion and hot sauce.