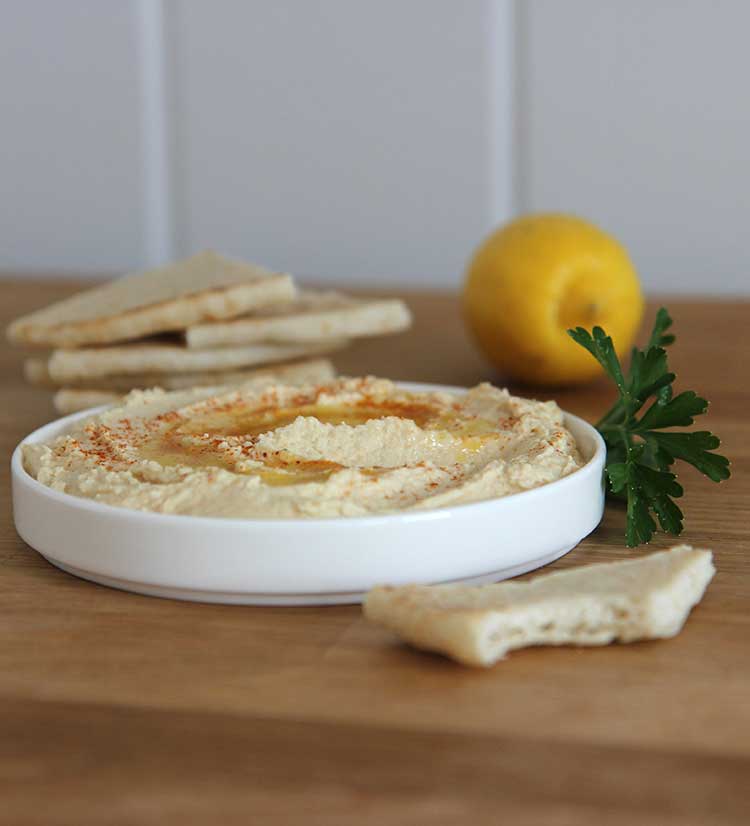 Hummus is one of those things that kind of had its moment in the sun, its fifteen minutes of fame, if you will, a few years ago. I remember when every G.D. coffee shop and hobo hangout in Austin had some kind of hummus sandwich to sell you. Sometimes they'd put sprouts on it. Sometimes it was on a bagel. And then it was at every party and hippie gathering and open-house you ever snuck in to. Hummus was EVERYWHERE!
And then it kind of lost favor with the masses. Sure, people still enjoyed hummus, but then they got onto other shit like sushi and gourmet hotdogs. Whatever. Hummus is still good. Girls like it. Boys like it. Kids like it. And I'm bringing it back. HARD CORE. Here's how to make it in a blender and give your date the "Wowzers".
Watch the video to see how to make hummus, or you can print the recipe card!
How To Make Hummus Video
Hummus Recipe – Printable!
Print
How To Make Hummus
Author:
Prep Time:

5 mins

Total Time:

5 minutes

Yield:

2 cups

1

x
1

15 ounce can chick peas (or see below for how to start with dried beans)

2

cloves garlic

2 tablespoons

tahini (Sesame paste)
juice of

one

lemon (about

3 tablespoons

)

2 tablespoons

olive oil, plus more for drizzling

1/4 cup

water (maybe a little more)
Optional: 1/4 -1/2 teaspoon salt; 1/2 teaspoon ground cumin; paprika; cayenne pepper
Instructions
Drain and rinse the chickpeas quickly to remove most of the gooey liquid.
Put everything in your blender. It works better if you put the liquids in first.
Pulse it a little to get it moving and poke at it if you have to.
Add a little more water if necessary to get it to a nice, creamy, smooth-as-silk consistency.
Put it in a fancy bowl. Drizzle some extra oil on top. Put some paprika on it.
Dip your love machine (or just carrot sticks) into it.
Something to go with your hummus? How about tabouli!
If you want to cook your own chick peas instead of using canned, follow these instructions:
Sort 1/2 cup of dry chickpeas, keeping a look out for any deformed or black beans and also for anything that is not actually a bean (like rocks, sticks, and clumps of dirt or fingernails. Ooh, gross! But it happens.)
Give them a quick rinse and then into a large pot. Add enough boiling water to cover them and let them sit for 1 hour. Drain.
Back into the pot with 1 quart water and 1/8 teaspoon baking soda. This is a trick I read about in a vegetarian cookbook (Nava Atlas maybe?) recipe for a Greek garbanzo bean soup. The baking soda helps the beans soften quicker and they give you a smoother, silkier hummus texture. Cover and bring to a boil. Reduce heat to simmer and simmer about 1 hour, or until a bean can — carefully! HOT! — be squished easily. Drain and remember to reserve about 1/4 cup cooking liquid to make your hummus!
There! Now continue with the recipe as directed for your very own homemade from scratch hummus!