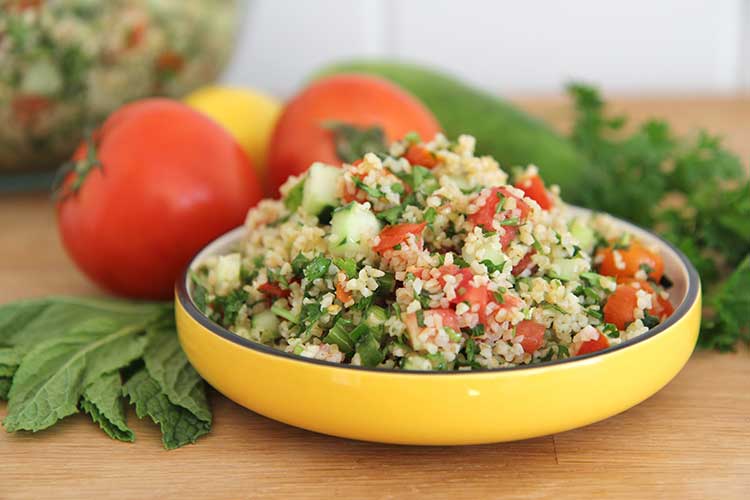 Tabouli is a classic middle eastern salad, traditionally served as part of the mezze, which is kind of like tapas in Spain or "drinkin' snacks" in my house. Don't tell the sheik, but I eat it for breakfast, too. That's right, with yogurt! What the fudge?! — That's crazy! — I know! It also goes real good with hummus, of course.
It's a wheat grain-based salad that uses bulghur (or bulgur or bulgar), also sometimes called cracked wheat (although they are not exactly the same thing). What it is though, is wheat grains that have been parboiled, dried, and then cracked into small pieces. Since it's already cooked, all you have to do is rehydrate it. It's easy to prepare and it's a whole grain. What's better than that? — A million dollars? — Okay. Agreed.

Anyway, tabouli (or tabouleh) is a great thing to take to a potluck for a change of pace from the usual mayonnaise-fests. It's light and fresh and goes great with spicy barbecue-sauced meats or grilled seafood. PLUS (and this is very important to me) you can add other vegetables you may have on hand and while I suppose you couldn't really call it tabouli anymore, everyone will call it "super delish"! Double plus, it gets better the longer it sits in your 'fridgerator, unlike the aformentioned mayonnaise-fests.
Watch the video to see how to make tabouli or print the recipe card!
How to Make Tabouli Video
Tabouli Recipe
Print
Tabouli
Author:
Prep Time:

20 mins

Total Time:

20 minutes

Yield:

4

-6

1

x
1 cup

medium-grind bulghur (might be labeled as #

2

grade)

1 cup

boiling water

1 cup

diced tomato

1 cup

seeded, diced cucumber (peel if you like)

1/2 cup

diced onion (soak in ice water to crisp it and mellow it) or green onions (don't need to soak those)

1 cup

minced parsley

1/4 cup

chopped mint (or cilantro or dill if mint isn't available)
For The Dressing:

1/4 cup

fresh lemon juice

1/3 cup

extra virgin olive oil (it really does make a difference in this case)

1

clove garlic, minced

1 teaspoon

each salt and pepper
Instructions
Mix the bulghur and water in a heat-safe bowl and cover. Let it sit about 15 minutes, or as long as it takes you to cut up everything.
Cut up everything.
Mix the dressing ingredients together.
Mix the vegetables and herbs with the bulghur.
Pour the dressing over it all and mix well.
Let it sit about an hour for flavors to blend.
Eat it.
Or refrigerate it up to 5 days.
Hope you enjoyed learning how to make tabouli! Maybe you want to see how to make hummus!