Chile de Arbol Salsa Recipe
I've been working on this chile de arbol salsa (what we call "hot sauce" in the US) for at least five years. My first serious notes about it are dated summer of 2012, but I'd been trying out variations before then.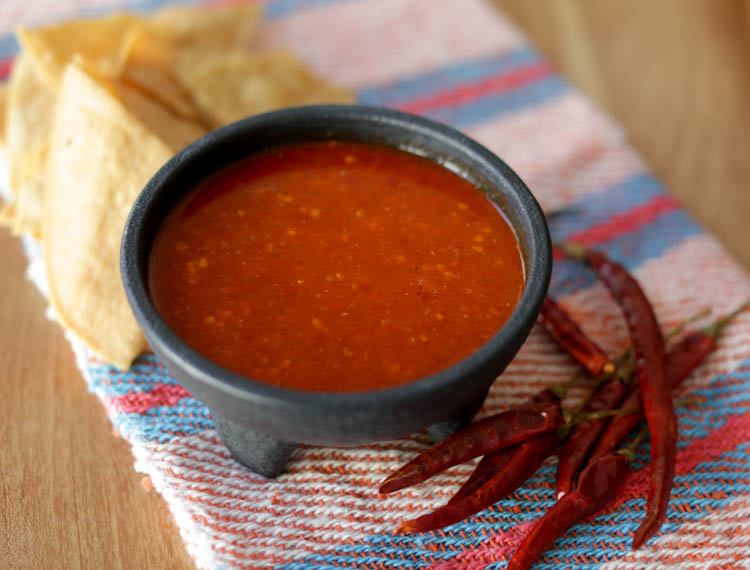 You may not know, when we started this cooking show and website in 2010, I had a full-time job as a dental assistant. There was a woman who'd come by the office about every two weeks right around lunch time carrying a cooler filled with hot tamales, wrapped up by the dozen. God, they were perfect.
I'd get the vegetarian (except for the lard, I'm sure!) tamales de rajas; they had a white cheese and strips of roasted jalapeño inside. Each dozen came with a tiny baggie of a smooth, runny, pure red salsa that was SO hot and SO delicious I could never stop eating it. I'd always run out before I finished my tamales. I asked her once what was in it and she just said chile de arbol and salt. I suspect there was more to it than that, but I do not blame her for keeping it secret.
Here's my version of chile de arbol salsa. Try it on tamales, fried tacos, breakfast tacos, even pizza. Pretty much rules on everything.
Click here for more info on the Homestyle Mexican Cooking Course with Carlos!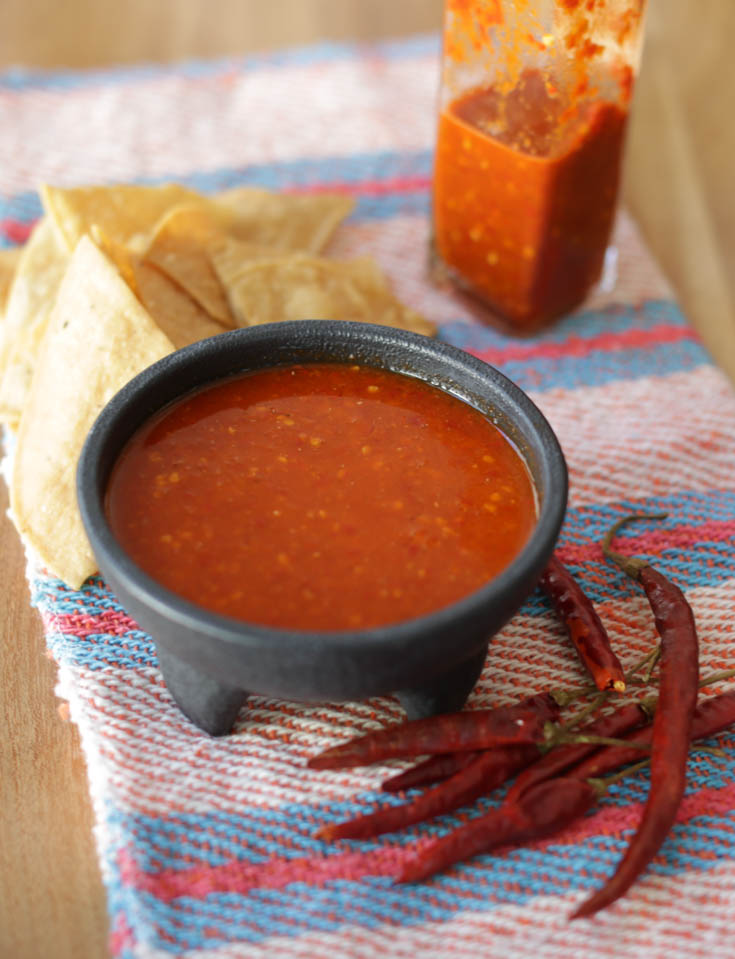 Chile De Arbol Salsa Recipe
Print
Chile de Arbol Salsa Recipe
Author:
Yield:

24 ounces

1

x
3 ounces

(

85 grams

) dried chile de arbol

6

(20 g) garlic cloves, peeled

2 teaspoons

(

12 g

) salt

2 cups

(

500

mL) water

1/4 cup

(

50

mL) apple cider vinegar
Instructions
Remove stems from chiles and discard.
Cover chiles and peeled garlic cloves with boiling water. Cover and let soak 3 hours or longer.
Drain and add to blender with remaining ingredients.
Blend until smooth. Taste to see if you'd like more salt.
Pour into a jar and cover loosely. Allow to age in a dark cabinet for a week, maybe longer. It might bubble a little so we want to wait for that to finish before pouring into salsa jars.
Transfer to smaller jars and seal. Keeps at room temperature for 6 months.
Chile de Arbol Salsa Video