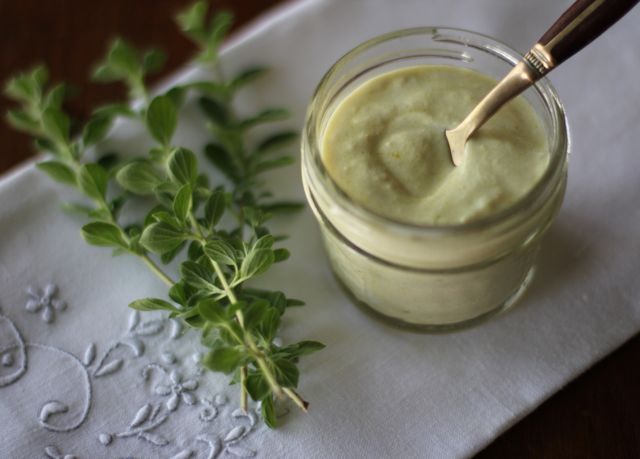 I'm not sure it's possible to explain to you how delicious and also how hot this sauce is. It is so delicious that we have been putting it on ALL of our food the past few days. I'm talkin' chicken tacos, carnitas, steamed broccoli, salmon patties, green beans, eggs, taco salad, tostones. Really, everything except our morning smoothies has gotten a dose of this biz and I'm even fantasizing about ways to make savory smoothies that I could put this in, too. That is likely never going to happen, but what WILL happen is that I'm going to keep making this until the Hatch peppers are gone and then I'm going to start making it with serranos because I can not be stopped when it comes to creamy spicy sauces!  
So … in your face, non-creamy hot sauces.

But it is also really remarkably incredibly hot, even with the yogurt. I've made it both with the hot variety of Hatch peppers, as well as with a mild Hatch plus one serrano and the two versions were equally high on the Scoville scale (I mean, I assume; I don't actually own one of those scales, but they tasted equally burning). I'm sure you could use a jalapeño (I just figured out how to do that ~ sign yesterday!) or just a mild Hatch if you want it milder. I think I'll try that next time, in fact. Jalapeño (did it again!) I mean, not mild Hatch. I gotta have some spice after all, and those mild Hatch peppers to me might as well be bell peppers. In fact, it's appropriate now to say that I wish someone would hybrid the two and come up with a medium Hatch pepper. Just for me.
For those in Austin, this sauce also reminds me of the Doña Sauce they serve at TacoDeli, which is the same type of green sauce that comes with the roasted chicken dinners from El Pollo Regio and I think they have it at Los Jalisciences, too. This sauce is much lower in fat than any of those, whose ingredients are jalapeños, oil, and salt. Seriously. Not that they aren't delicious, but in my home-cooking and home-eating, I like to pretend I'm making rational choices. Just go with me on this one, 'kay?
Print
Creamy Hatch Chili Sauce
Author:
Prep Time:

10 mins

Total Time:

10 minutes

Yield:

1/3 cup

1

x
1

Hatch green chili (hot or mild) or see above for substitutions

1

clove garlic

2 tablespoons

olive oil

1/4 cup

plain Greek yogurt

1/4

–

1/2

teaspoon salt
Instructions
Roast the pepper under the broiler for 2-3 minutes on each side until blistered and blackened.
Remove and place on a cutting board. Cover with a bowl and allow to cool.
Remove the stem and peel skin off. Seed the pepper if you like (I think I will next time).
Place pepper along with garlic and oil in the blender and combine until smooth.
Add yogurt and blend.
Season with salt.
This will keep a week in the fridge. Some separation may occur, but it comes back together with a quick stir.
Notes
Note: You can totally use regular plain yogurt (instead of Greek) but your sauce will be thinner than a dip consistency. It will be more like a buttermilk salad dressing consistency, which works out well since it's great on salad!