Fried Plantains (Tostones!)
Plantains to me are a marvelous fruit. Over two weeks, they transform upon your countertop from immature and hard and green to ripe and black and soft and squish. When green, they are nearly as hard as a turnip and covered in leathery skin attached to the flesh on a cellular level as if by hooks. When green, they can only be uncovered by knife's blade and the only suitable treatment then is to be sliced and fried into tostones — as crisp as the best french fry you've ever eaten.
A few days out from green, the plantain begins to turn yellow, starting at the center-point and working its way towards the ends, which hang on to their green tone out of spite maybe. At this time, the plantain may be peeled with determined fingertips and the now-slightly-sweet interior may still be fried as tostones — though not quite as crisp as before. (The ones I used were at this level of ripeness.)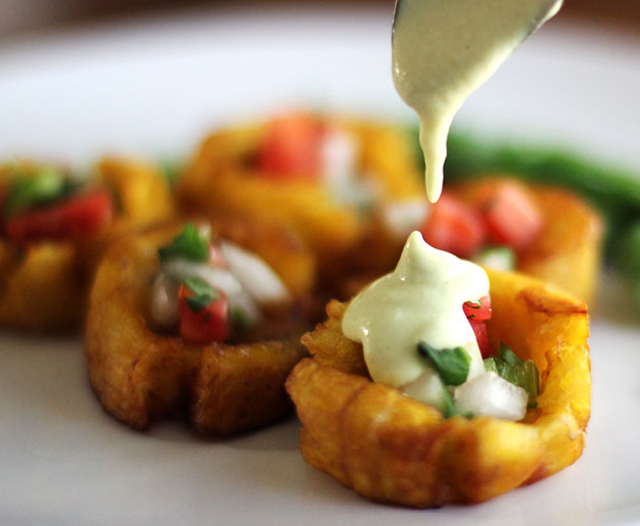 Beyond that, the plantain starts to show age spots. Yellow, with a hint of brown or black frecklings. The changeling on the path to pure black. It's more flexible now, more forgiving, more adventurous and may be boiled until soft and made into sweet fritters.
The black plantain would make a really good name for a Caribbean folk tale about a plantain farmer who was really a demon and sold poisoned fruit at all the markets that killed young women and left young men castrated.
That would be a horrible story, though.
Black plantains, as unappealing as they are, can still be used to make desserts. They can be mashed up and mixed with sugar and cinnamon and used to fill empanadas or fried pies. Sometimes I'll boil them in their skins, peel and mash the meat with raisins, dip spoonfuls into chopped nuts and brown them slowly in butter.
All this is to say: Plantains – You outta try em.
I really think you'll enjoy these. If you're as lucky as moi and you have a tostonera, this video will show you how to use it to make crispy fried tostones cups that may be filled with various delicacies not the least of which is my creamy Hatch chile sauce, picadillo, habanero shrimp, or pico de gallo. Or really anything that sounds good to you, which will include anything that sounds good to you with potatoes (e.g., bacon, sour cream, ham, cheese, etc. ad infinitum). If you don't have a tostonera, fret not, and just get yourself a can or soup or an empty mayonnaise jar. I'll show you how to make big, flat tostones which you can still top with or dip into any thing you damn well please.
This recipe is easy and never fails to please. You may use green or yellow plantains for this, but refrain from using a plantain that's beginning to show brown or black spots. That plantain will have too much sugar to make tostones and will burn instead of crisp in the oil. Try to serve them as soon as you can out of the fryer, but they'll be alright for 20 minutes or so at room temperature. If you need to you can hold them in a 250 degree oven for up to 30 minutes before serving. Tostones are traditional throughout the Caribbean and Central and South America under different names, patacones being one. Often they are deep fried and you can do that if you please, but I find the results just as good shallow-fried. Really, though, either way you like is fine.
Print
Tostones!
2

green or yellow plantains

1/4 cup

oil
Salt
Serving sauces or accompaniments as desired (see post for suggestions)
Instructions
Peel the plantains. You may need to employ a knife or vegetable peeler.
Cut crosswise into 1″ slices.
Heat the oil until about 350 F and fry the slices in a single layer for about a minute on each side or until light golden brown.
Remove to a cutting board or other hard steady surface.
Smash flat with a can or jar, or press in a tostonera.
Fry again for another minute or two on each side, or until very crisp and brown.
Darin on a rack or paper towel briefly before serving.
I got my tostonera from my buddy Steve at Woodworking for Mere Mortals. He made it! Then he mailed it to me. That was nice of him and he has a great show, too. Check it out if you like woodworking and/or goofy silly people (I suspect you do if you're reading this!). If you want to buy a tostonera,