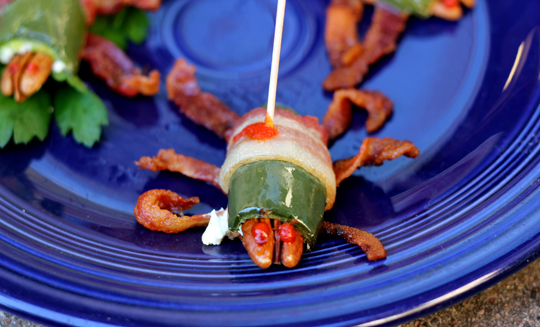 Before anyone jumps all over my case for not coming up with some kind of spectacular, life-sized mummy cake for Halloween, I gotta tell you…mummy cakes are hard. And dusty. And you get strings all in your teeth. In short: not as good as it sounds. So instead, I give you a cleverly re-named and re-formed old favorite of mine, yours, and everyone who ever ate at the Alligator Grill.
I was sweating it, people, because although I had taken the summer off from shooting, I somehow did not manage to experiment in the kitchen near as much as I wanted to. And then it was the day before we were supposed to get back on that internet-cooking-show horse and ride it off into the tequila sunset, and I still didn't really know what I was going to do.
Fortunately, I suffer from bouts of insomnia wherein I am woken up for some reason at three in the morning (a siren, a ghost, a pin drop) and for the life of me, can not get back to sleep. Those nights suck big zebra balls, but sometimes I come up with something my daytime brain would have never thought of. This was one of those things!
Interlaced bacon!
It helped that I still have about 20 pounds of bacon in the freezer. I was so excited, it was hard to stay in bed the rest of the night. But I did, and eventually drifted back to sleep around five, but then I woke up at seven to get in that kitchen! And it worked. And I was happy.
So here is the first in a short series we'll be doing on Halloween this month. We are SO excited to be shooting weekly episodes again! Yay!!!
Hallow-peño Poppers Recipe!
Print
Jalapeño Poppers
Classic bacon, jalapeno, cream cheese combination with a Halloween twist!
6

medium jalapenos

12

strips of center-cut bacon

3 ounces

cream cheese

12

pecan halves
Sriracha sauce
Instructions
Cut the jalapenos in half length wise and cut out the seeds, membranes, and stems. Spread about a teaspoon of cream cheese into each jalapeno half.
With a very sharp knife, cut fringes into each bacon strip, about one-third of the way in from each end. You should be able to make 3 fringes on each end.
Set a jalapeno half cream-cheese-side-up on the center of a slice of fringey bacon. Wrap the ends up and around, interlacing the fringes over the cream cheese.
Carefully transfer the jalapenos to a baking sheet, cream-cheese-side-down, and spread the little legs out.
Bake for about 15 minutes until the bacon legs are crispy.
Put a pecan half into the stem end of each jalapeno and make tiny eyeballs with Sriracha. Stab em with a toothpick to make them more gruesome and easier to eat.