Fried Tacos Recipe Video
Most people have memories of Jack in the Box tacos — perhaps fond or not-so-fond. My memory is mostly of my high school boyfriend berating the drive-thru girl about whether she could or could not put cheese sauce on his tacos, rather than American cheese slices. She insisted that it was not allowed; he argued that since the cheese sauce was in the kitchen, there was nothing preventing her from splooging that onto his dumb tacos instead of the cheese slice.
He did not get his way and I began to realize that he was an asshole.
This is a very specific type of taco — a taco which is filled first and then fried, resulting in a perfectly crisp taco shell and a filling that is almost roasted around the edges — which, before moving to Los Angeles, I had only ever seen at Jack in the Box. But the filled-before-frying taco turns out to be the most common kind of crispy taco seen in LA, at least the places we go. And they are so, so, SO good. Savory, delicate, and somehow ephemeral in that before you can blink, they will all be gone.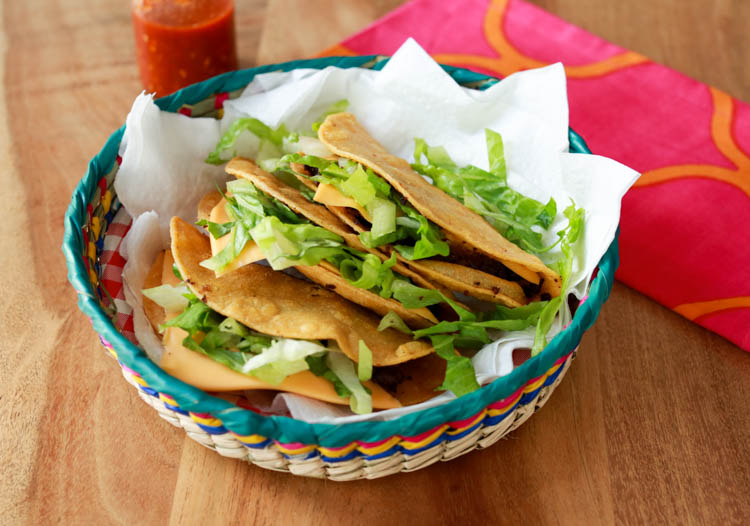 My research began with looking at the JITB tacos ingredients list which is as long and uninviting as you can imagine. But it did inspire me to add some Worcestershire sauce to my basic taco filling recipe. That was a good choice. And the old trick I shared in my chili dog chili recipe, adding extra liquid to ground meat to make it crumble up small, is also necessary for the right consistency. In order to get the soft and sort of creamy texture that the JITB taco filling has, I added a couple tablespoons of masa harina to the mix as it cooks. It not only holds the filling together, it also adds a nice nutty flavor.
Masa harina is found near the flours in any grocery store and you can use what's left to make corn tortillas. If you don't want to or can't buy it, use a little all-purpose flour instead; just about 2-3 teaspoons and be sure to cook it for a couple of minutes with the meat to get rid of the raw flour taste.
I've made these tacos with both ground beef and turkey. While we slightly preferred the beef, turkey is totally good, too. And of course you may use grated cheese instead of American slices (or splooge on some nacho cheese even) and you may add tomato or onion or any other taco filling you want. There is just something about the American slices melting into the filling that I L-O-V-E but I know not everyone has the same feelings towards processed cheese. But, hell. I'm from Texas, home of queso and chili mac and I will forever be a fan of that yellow cheese.
Fried Tacos Recipe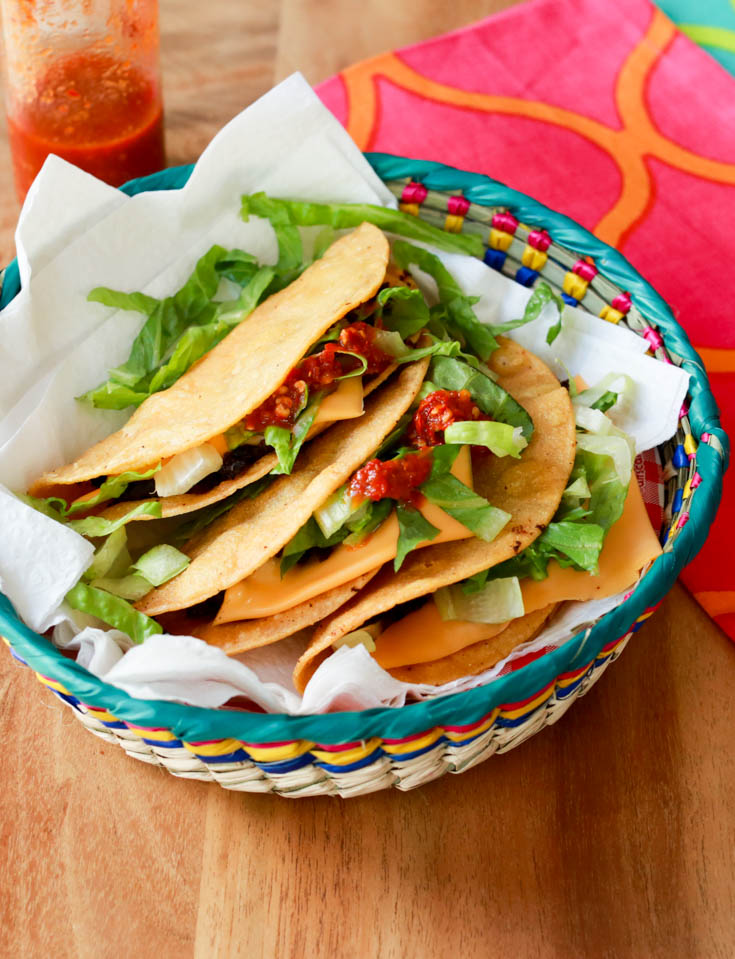 Print
Fried Tacos
Author:
Cook Time:

20 mins

Total Time:

20 mins

Yield:

8

1

x
1/2

pound lean ground beef or turkey

1/4 cup

water

1/4 cup

grated onion

2 teaspoons

chili powder

1 tablespoon

tomato paste

1 teaspoon

Worcestershire sauce

1 teaspoon

salt

1

clove minced garlic
pinch dried oregano

2 tablespoons

masa
oil

8

corn tortillas
Toppings:
American cheese slices
shredded lettuce
hot sauce
Instructions
Combine beef through oregano in a bowl and mix well. Mixture will be wet.
Put into a skillet and simmer over medium heat for about 10 minutes, stirring frequently, until meat is mostly cooked. Add masa to thicken. Turn off heat.
Warm tortillas on an oiled griddle to soften. Spread about 2 tablespoons filling onto each tortilla and fold over. Press to seal.
Cover with plastic wrap and refrigerate tacos for at least 30 minutes and up to 8 hours. (You can also freeze tacos for a few hours until solid, then store in a freezer container for tacos on a whim.)
Heat 1 inch of oil in a deep skillet to about 350ºF. Fry 2-4 tacos at a time depending on the size of your pan. Cook them for about 2 minutes on each side until golden and crispy. If you are frying frozen tacos, do not thaw first. Just fry as usual, adding an extra minute or so.
Drain tacos on paper for a few minutes.
Once cooled slightly, gently open taco and stick in a half slice of American cheese and a sprinkle of lettuce and hot sauce. It's okay if the shell cracks a little; it will still hold together.
Enjoy!
Try these with homemade salsa verde, too!