Gorditas roughly translates into "little fatties", which is a reference to their appearance — fat, stuffed corn tortillas — and possibly your appearance as well if you eat too many. A play on my "Healthy vs Hell-with-it" theme, these are basically Tuesday's very healthy, low-fat and wholesome corn tortilla recipe turned into fried corn dough balls stuffed with fatty carnitas (or really anything you can think of) along with cheese, onion, cilantro, lettuce, and salsa. If you look around, you'll find literally tens of different ways people make gorditas.
Sometimes they are just a thick, grilled corn tortillas with the "filling" piled on top; sometimes they are stuffed before cooking (more similar to the way pupusas are made); sometimes they are small and round like a fist; other times they are flat and disc-shaped. What I see in Austin most often is this type: a thick tortilla, grilled, then deep fried, split open like a pita bread and stuffed with any meats or non-meats on the menu: chicharrones, barbacoa, puerco al pastor, carnitas, aguacate, frijoles refritos, nopalitos … the possibilities are literally endless. Anything you can put into a taco, you can also cram into a gordita and it's divine. Crispy fried exterior, creamy and smooth corny interior. Top them with the usual suspects like Cotija cheese (salty, crumbly, similar to Parmesan) or sour cream and fresh onions, cilantro, lettuce, tomato. You'll think you've died and gone to Little Fatty Heaven.
And then you'll wake up there for real after having 10 gorditas and a heart attack.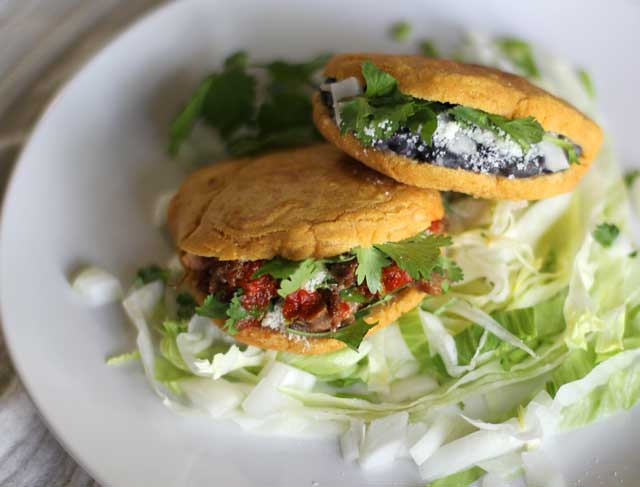 Print
Gorditas
Author:
Prep Time:

5 mins

Cook Time:

10 mins

Total Time:

15 minutes

Yield:

4

1

x
Dough:

2 cups

(

8 ounces

by weight) masa harina

1 teaspoon

baking powder

1/2 teaspoon

salt

1 tablespoon

vegetable oil

1 1/4 cups

warm water (approximate)
Oil for frying (about a quart, or enough to be at least 1″ deep) like corn or peanut
Fillings (see above text for more ideas):
Cooked meat, shredded or chopped
Refried beans
Cheese and sour cream
Lettuce, tomato, onion, cilantro
Instructions
In a large bowl, combine masa harina, baking powder, salt.
Add oil and about 1 cup of water. Stir to combine. Add enough water to make a dough that sticks together into a ball, but not so much that it sticks to your hands.
Divide dough into 4 pieces and pat each out to a circle about 4-5″ across and 1/2″ thick.
Cook on a hot, dry skillet over medium-high heat for 1 1/2 minutes each side, or until lightly browned.
Heat the oil to 360-375 degrees and place gorditas in the hot oil. After about 2 minutes, they will rise to the surface. Turn and cook another 30 seconds.
Allow to cool and drain on paper.
Split open along the side with a serrated knife. don't cut yourself!
Stuff with whatever you like and serve right away.