Making corn tortillas in many ways is easier than homemade flour tortillas. The traditional corn tortilla recipe is only three ingredients: masa harina, salt, and water. Masa harina is a dry flour made from masa, which is a dough made from dried corn that's been treated with a strong alkalizing compound (usually lime — calcium hydroxide, not the citrus fruit) that removes the outer husk of the corn, leaving the meaty center kernel which is then ground up into the masa (a.k.a. masa preparada, or "fresh masa") that's used to make tamales, corn tortillas, gorditas, pupusas, huaraches, and a multitude of other Mexican and Central/South American recipes. Masa harina is just dehydrated masa. The word "masa" means "dough" and "harina" means "flour". Maseca is a very popular brand of masa harina.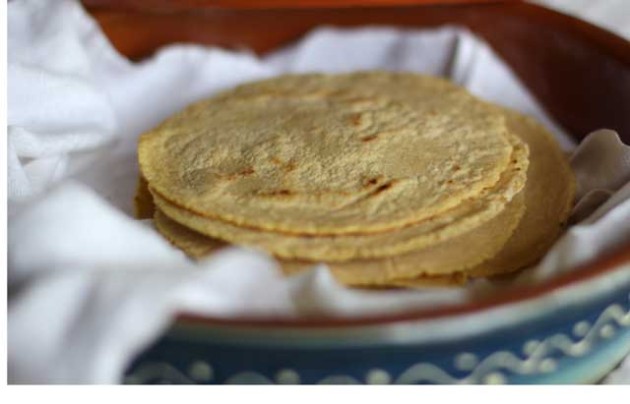 While it might seem daunting to make tortillas at home, I assure you, it's really very simple (especially if you have a tortilla press, but in a pinch, some plastic wrap and a heavy pot will do). Since corn is naturally gluten-free, there is not resting of the dough required like there is with flour tortillas and it's impossible to overwork the dough. Fresh corn tortillas are chewy, tender, slightly elastic, rich with corn flavor, and make MUCH better tacos than store-bought corn tortillas that invariably crack and crumble unless reheated just right.
These tortillas can be stored for a few hours in the oven if stacked and wrapped in a clean cloth, then either wrapped tightly in foil or placed in a ceramic or otherwise heat-proof tortilla warmer, and placed in a 150-200 F oven. To store leftover tortillas, keep tightly wrapped at room temperature for upp to a day, then refrigerated for up to 2 days. Dampen them slightly with a sprinkle of water from your fingertips before reheating in the oven (wrapped in foil) or microwave (covered in a damp towel).
This recipe make 8 tortillas, but can easily be doubled.
Print
Corn Tortilla Recipe
Author:
Cook Time:

10 mins

Total Time:

10 minutes

Yield:

4

-8

1

x
1 cup

(

4 ounces

by weight) masa harina

2/3 cup

warm water (approximate)

1/8 teaspoon

salt (optional)
Instructions
Line a press with plastic wrap and preheat a dry heavy skillet or comal (griddle) over medium heat.
Combine the masa harina and salt in a bowl.
Stir in about 1/2 cup water. Add water in small amounts while mixing with your hands until a soft dough is formed. You should be able to squeeze the dough with your hands to make a ball, but it should not stick to your hands. If it's too dry, add a few drops more water, if too wet (sticky) add a little mire dry flour.
Once it's at a good consistency, roll into 8 golf ball-sized balls.
Once skillet is hot enough that a few drops of water sizzle, begin pressing the balls out into tortillas.
Cook one or two at a time on the hot skillet, one minute on the first side, then 30-60 seconds longer on the other side.
Wrap in a clean cloth to keep warm and absorb condensation while you cook all the tortillas.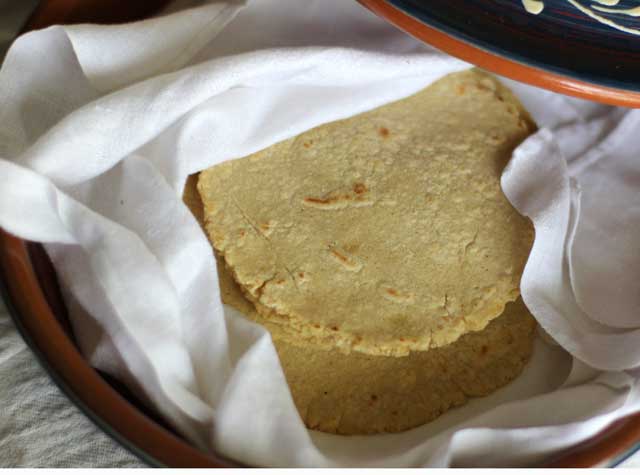 Homemade corn tortillas are great for making crispy beef tacos!