A chili dog is a glorious symbol of our American melting pot. It's got so many elements to it, just like the USA. The German wiener; Mexican chili powder; English Cheddar; and white bread of course because that's the American way and I better not be seeing no sniveling little whole wheat buns on my picnic table this Fourth of July, no sir!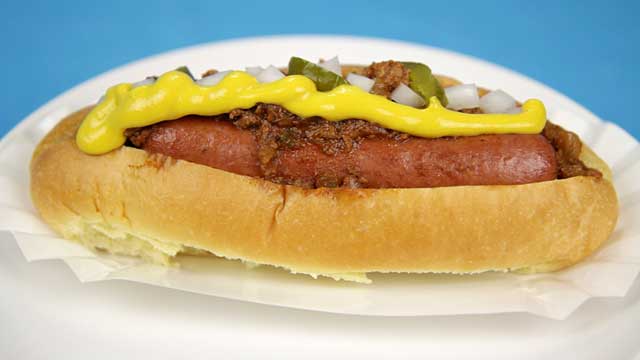 A good chili dog deserves nothing but the best. Or nothing but the worst, depending on how junky you like your junk food to be. Honestly, I guess as long as the chili itself is outstanding (see my recipe below!) you could get away with crappy hot dog murder underneath the warm, cozy comforter of chili. Chili dog chili is different than other types of chili. Chili dog chili must be thick and saucy and finely textured to ensure that it will stay packed on and in the hot dog instead of dripping out all over the place and/or turning your bun to mush. This is especially important to note when using extra squishy buns. So, while my dad's Texas chili recipe is AMAZING, it wouldn't work well on a chili dog. It's too chunky, too tomatoey, and the sauce isn't thick enough.
My chili dog chili recipe was cobbled together from a recipe for Kentucky "Chili Buns" I got from my pal Bruce and a couple of Coney Dog chili recipes I found. It's more a Texas-style chili than a Cincinnati chili in the seasoning, but the real trick you need to remember is to boil the beef. Boiling instead of browning produces the fine crumbly texture we are looking for, similar to the filling used in these crispy beef tacos.
CHILI DOG CHILI VIDEO
CHILI DOG CHILI RECIPE – Printable!
Print
Chili Dog Chili!
Author:
Prep Time:

5 mins

Cook Time:

1 hour

Total Time:

1 hour 5 minutes

Yield:

8

1

x
1 tablespoon

oil

1

large onion, minced

2

cloves garlic, minced

1

–

2

jalapeños, minced

1

pound ground beef

12 ounces

beer or beef broth

2 tablespoons

chili powder

1 teaspoon

ground cumin

1 teaspoon

paprika

1 teaspoon

black pepper

1 teaspoon

salt

1/2 teaspoon

dry mustard

1/4 teaspoon

allspice

2 tablespoons

Worcestershire sauce

2 tablespoons

tomato paste

1 tablespoon

cider vinegar
For serving:

8

hot dogs

8

hot dog buns
grated Cheddar, chopped onions, pickles jalapeños, mustard
Instructions
Heat oil in a large pot over medium-high heat and add onion. Saute about 1 minute until slightly translucent.
Add garlic and jalapeño, stir and cook 30 seconds.
Lay the beef on top of the onions and add the beer.
Use a spoon to break the meat up in the liquid. Add remaining ingredients, EXCEPT vinegar.
Simmer uncovered 1 hour, stirring occasionally.
Taste for salt and if it needs a little perkiness, add the vinegar.
Notes
To make a mild chili, use 1/4 cup minced green bell pepper instead of jalapeños