Don't laugh.
I know this is, like, Baby-Cooking 101 — whoa … not like that — but it's very important to me that you not forget about quesadillas! They are a crucial part of my life and have been for many years. Second only to grilled cheese sandwiches (and on occasion, they have traded places) in the role they have played during the darkest, drunkest, and poorest days of my life, quesadillas are an oft-forgotten, uber-delicious snack or meal idea.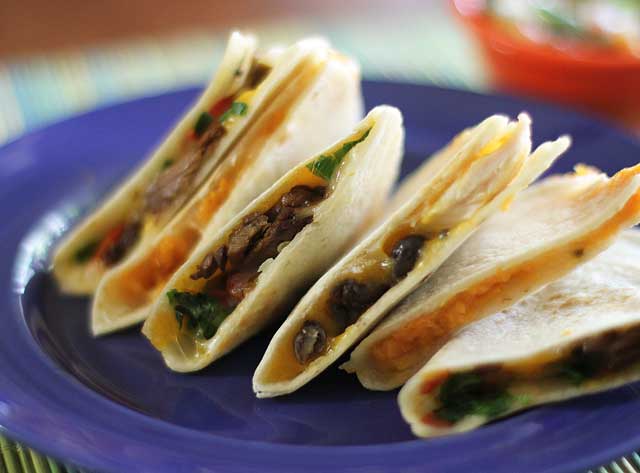 One filling we discovered while on a weekend trip with some friends this summer was smoked brisket. Oh how we howled with delight late one night when we drunkenly stuffed some tortillas with shredded brisket and pepperjack cheese and ate them up along with the rest of the guacamole, salsa, and our manners. Quite a mess in the kitchen the next day but, DID WE CARE?! We did NOT! 'Cause those brisket quesadillas was the bomb. (Also somebody else got up before we did and cleaned it all. Thx!)
Sweet potato and white cheese quesadillas were a favorite of mine when I was a vegetarian. If you have a hard time imagining that one, think about how yummy cheese and fruit is together — it's kind of like that. Slightly sweet potato, creamy cheese, with some fresh cilantro and spicy salsa it's like a 4-way of flavor going on in your mouth.
And of course, everyone's favorite: the Chicken Quesadilla. Pretty much all the kids in the world will eat a chicken quesadilla. Pretty much all the grown-ups, too. Some black beans and pico de gallo add a little color and fiber, but if you want of course, just some shredded cooked chicken and cheese will do fine.
So those are my favorites. What's yours?
Print
Quesadillas
2

flour tortillas

1/2 cup

grated cheese – monterey jack, pepperjack, cheddar, asadero, provolone, any cheese like that that melts well
Fillings of choice:

1

–

2

tablespoons pico de gallo, onion, or cilantro

1/4 cup

cooked chicken, beef, or pork (or shrimp!)

1

–

2

tablespoons cooked beans, black or pinto

1/4 cup

sauteed sweet potato or zucchini and/or peppers
Instructions
Lay the tortillas out flat.
Sprinkle about 1 tablespoon of cheese on one half of each tortilla.
Spread out fillings of choice over the cheese.
Sprinkle remaining cheese evenly over the fillings, dividing between the two tortillas.
Fold over and press down lightly.
Heat slowly in a skillet until cheese is melted and tortilla is crisp. Flip and brown the other side over a higher heat.
Remove and let cool a minute before slicing each into 2-4 triangles.
Serve with salsa, sour cream, guacamole
Notes
Quesadillas can be filled with any vegetable or meat you have. They're a great way to use up leftovers or produce that's a little past its prime.