Spatchcock Chicken How-to Video (scroll down for printable recipe)
How on earth spatchcocked chicken has escaped me so far in life I may never know, but now that we've been introduced I think I shall stay by spatchcock chicken's side forevermore. Spatchcocking is not only a hilarious word to say aloud, it also produces a perfectly cooked bird every damn time.
I've shown you how to roast a whole chicken, as well as how to butterfly pork chops before cooking, and spatchcocking is kind of like those two things combined. By removing the backbone and some of the connective tissue, you are essentially "butterflying" a whole chicken. That means it cooks faster and more evenly than a whole bird, producing wonderfully juicy meat while still getting that great golden roasty-toasty skin!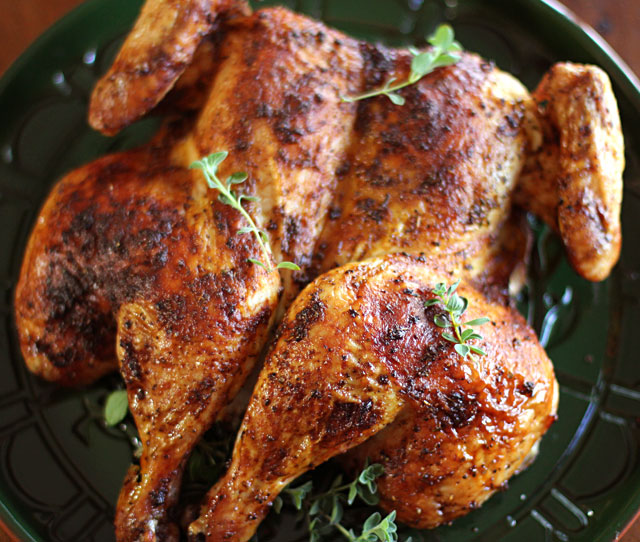 Here I've seasoned the bird with a dry rub similar to Cajun blackening seasoning. You can use any rub you like, or even soak the prepared bird in a marinade of your choice before cooking. The sauce I made in the video is this creamy hatch chili sauce I posted a few days ago actually. Told ya it's great on anything!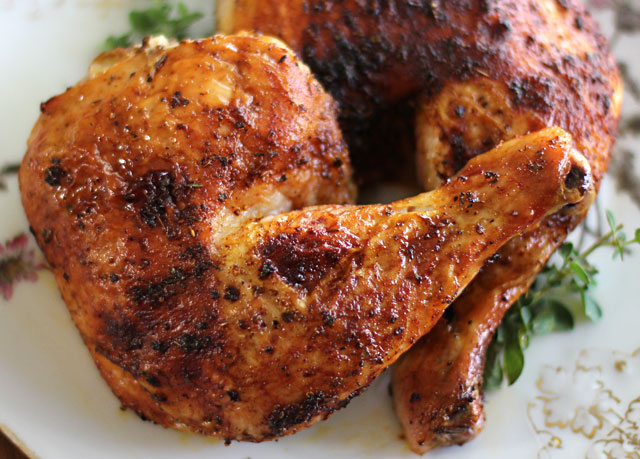 Oh my gawd, you know what else you could do I bet is grill this mofo. I just bet that would be really really great if you knew how to do that. (Update! Now you do: Pollo al Carbon recipe and video)
Spatchcock Chicken Recipe – Printable!
Print
Spicy Spatchcocked Chicken
1

whole chicken (

3

–

4

pounds)

1 tablespoon

sherry or white wine (optional)

1 tablespoon

olive oil
Dry rub:

1 tablespoon

paprika

1 teaspoon

black pepper

1 teaspoon

salt

1 teaspoon

cayenne pepper

1 teaspoon

thyme

1 teaspoon

oregano

1/2 teaspoon

ancho chili powder
Instructions
Get the chicken out of the fridge and let it sit out on the counter to get the chill off while you get some things ready.
Line a baking sheet with foil if you like. You can skip this step, too. Lay a rack in the pan and set the contraption aside. The rack holds the chicken off the pan so that air can circulate under it as it cooks.
Combine the dry rub ingredients together in a small dish. You will only need half the mixture for this recipe so you can set aside half now to avoid contamination. Or you could just halve the recipe to begin with, but it's lovely on seafood too, so you might as well make the extra.
Set your oven to 400º F.
Place the chicken breast-side down on a cutting board. Use heavy-duty kitchen scissors to cut out the backbone by cutting down from neck to tail along each side. Remove and discard or save for homemade chicken stock.
Open the bird up like a book. Use a sharp paring knife to cut down the center of the bird, just deep enough to incise the cartilage covering the breastbone.
Press down on the chicken now to flatten it completely. You might hear a little "pop" – that is the wish bone.
Pour the sherry all over the inside of the bird and sprinkle about 2 teaspoons of the spice mix over.
Flip the bird and brush the skin with olive oil then sprinkle another 2 teaspoons or so of the spices over the skin.
Lift the chicken onto the baking sheet/rack combo.
Bake for 45-50 minutes or until the breast meat measures 150ºF and the thigh reaches 170ºF.
Let rest 10 minutes before carving into quarters.
Notes
This dry rub is quite spicy. If you want it less so, reduce or omit the cayenne pepper.
I wrote about making your own chicken stock before, at the bottom of the roasted chicken post. Check that out if you want. It's an easy, budget-friendly thing to do if you make and freeze a few quarts at once to use in soups and stews later.