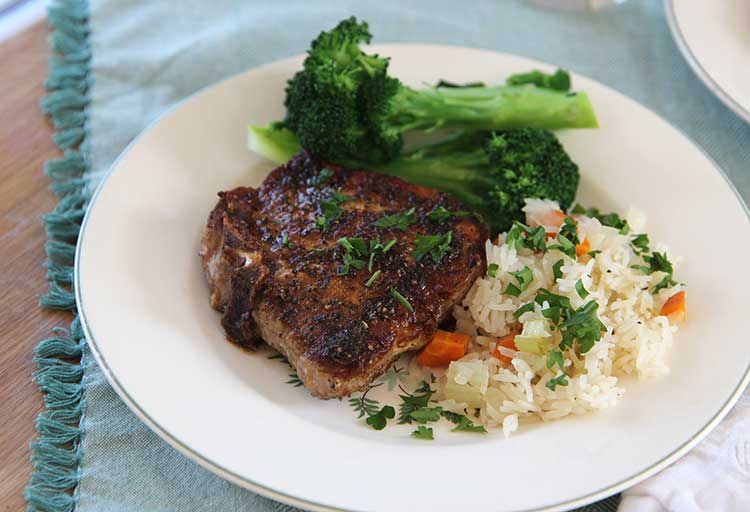 Pork chops are super fast and easy to make and when done well, they rival any t-bone steak around. The thing is, you must not overcook those pork chops. I know it seems weird and wrong to leave them pink in the middle but seriously, that is what you have to do unless you like tough, chewy pork chop jerky. I know some people are still real hung up on thinking that undercooked pork will kill you and leave you with a tummy full of trichinosis but it won't. Trichinella has become very rare in the US over the last century and I'll take my chances, thank you.
But, if you eat a lot of bears and javelinas and squirrels, well then it's a whole different story, Kit Carson. Evidently Trichinella is still really common in wild game so you probably ought to roast that big beaver 'til it's well done. With that said, here is my take on pork chops. This rub is also great on baked or roasted chicken, for example: Spatchcock chicken!
How to Make Pork Chops Video
How to Make Pork Chops Recipe
Print
How To Make Pork Chops
4

Pork chops

1 tablespoon

butter

1 tablespoon

oil
Dry rub:

1 teaspoon

each: mustard seed, thyme, black pepper – grind these together and add:

1 teaspoon

paprika

1 teaspoon

salt.
Instructions
Sprinkle about a half- teaspoon of the mix on each pork chop and rub it in. Then flip them over and sprinkle another half teaspoon on the other side. Rub that in.
Turn your stove on high heat to preheat your skillet.
Add about a tablespoon of butter and a tablespoon of oil to the pan and let it melt and get all sizzlin'. Put in your pork chops. Arrange them so that the bony side or the thicker side is towards the middle of the pan where it is hottest.
Cook them for 2 minutes if they are boneless and thin (if you butterflied them), 3-4 minutes if they are bone-in.
Flip them over and turn the heat down to medium-low. Cook them for another 2 minutes for thin ones or 3-4 minutes for the other ones.
Turn the heat off. Poke them with your finger. They should feel firm, but not hard. Poke them with a knife. They are good to go if there's just a little pink tinge to the juices.
Consider yourself served… Served a hot and delicious pork chop!
Notes
For the pork chops: Get you some. Bone-in or boneless whatever your preference. Bone-in take a little longer to cook but are harder to overcook so they might be good to start with. If your boneless pork chops are more than an inch thick, I recommend butterflying them to give you a thinner piece of meat that will cook faster and more evenly.
If you liked this video, please take a second to click the Retweet button or click below to Share it on Facebook. It helps us out BIG-TIME. Thanks!