Fancy Gourmet Grilled Cheese Sandwiches
Gourmet Grilled cheese sandiches video – scroll down for recipe cards

Grilled cheese sandwiches are an unavoidable part of learning to feed yourself. Many were the late nights and early mornings of my younger years fueled by a grilled cheese. Sometimes, the only thing between my head and the floor was a quick and toasty GCS.
They don't require much in the way of ingredients; any kind of bread or cheese will do and if you're out of butter, you can saute the sandwiches in a little oil. They don't require much coordination, either, provided your cheese is pre-sliced. They're ready in a snap, provided you remember to turn the stove on. They're really hard to fuck up, provided you remember to turn the stove off. All in all, a great invention worthy of praise from the lowliest drunks to the laziest tweens.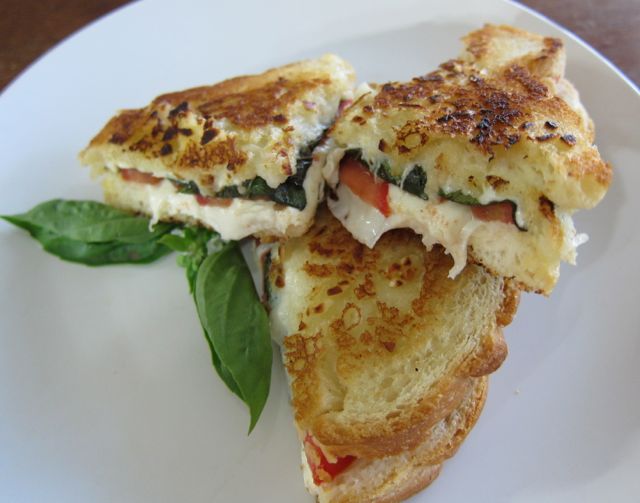 Here's some fancy gourmet grilled cheese sandwiches for those rare moments when hunger and clarity of thought coincide: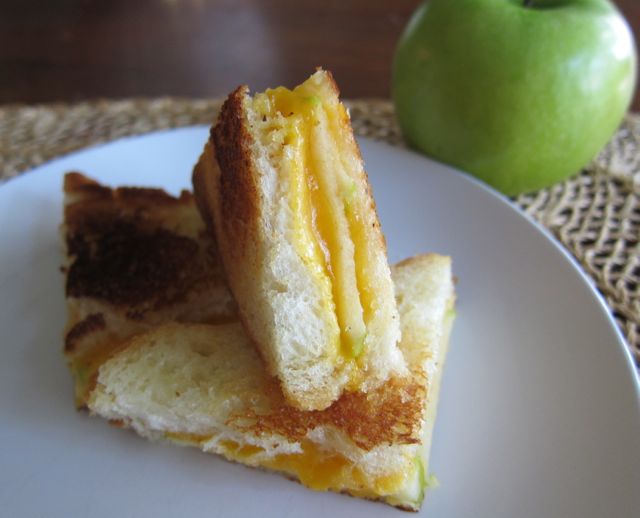 Fancy Grilled Cheese Sandwiches – printable recipe card
Print
Fancy Grilled Cheese Sandwiches
Some new twists on an old favorite
For each sandwich, you need:

2

slices of bread

1 ounce

of cheese

2 teaspoons

soft butter
For a Margherita Use: tomato slices, fresh basil, mozzarella cheese, minced garlic
For Apples 'n' Chedd Use: sliced apples, sharp cheddar cheese
Instructions
Butter one slice of bread with 1 teaspoon butter and lay, butter side down, in a skillet.
Slice the cheese thinly and lay half the cheese on the bread in the skillet.
Top that with the other filling ingredients.
Top the filling with the rest of the cheese slices.
Butter the second piece of bread and lay it on top, butter side up. (For the Margherita, spread the minced garlic on top of the butter)
Turn the heat to medium and cook for about 2-3 minutes, or until the cheese has softened and the bread is toasted.
Carefully turn the sandwich and cook another 1-2 minutes.
Let cool slightly before cutting in half.
Notes
Experiment with different cheese and filling combinations:
Swiss, Muenster, or cream cheese
sliced turkey, ham, salami, or other lunch meats
sliced apples or pears
condiments such as mustard or sweet chili sauce or fruit jams
In a similar vein, try these ideas for quesadillas. And if you're the type who MUST have a creamy bowl of soup alongside your grilled cheese, try my butternut squash soup recipe or black bean soup for a change from the ol' Campbell's can.