I'm really super happy to be sharing this with you today! Since shooting at Louie Mueller Barbecue a month ago, I've been working on my oven brisket technique and two things have happened. My oven brisket is at least four times more delicious than it was before I got tips from the master. Also, Chris and I are all beefed-out. Seriously. If you never thought you could ever get tired of beef brisket, uh, try eating it three times a week for a month.
How to Cook Brisket Video
Continue reading for the printable oven brisket recipe card and tips on cooking different sizes of brisket.
If you watched the video, you may have laughed heartily at my foolishness when it came to judging how long my humongo brisket would take in the oven. Since then I have gathered information from the internet and my own experiences into this handy chart.
To calculate your approximate cooking time, multiply 1.5 hours times weight in pounds. Therefore:
3-4 pound brisket = 4.5 – 6 hours
5-7 pound brisket = 7.5 – 11 hours
8-10 pound brisket = 12 – 15 hours
These times are all for a brisket baked at 250ºF, which is optimum for efficiency, moistiness and juicitude. I've tried it at higher temperatures in an effort to reduce the cooking time, but the tough result was not worth it, and that's coming from me who loves shortcuts, aka the "Good-Enough" girl.
Also, if you're cooking a "split brisket" meaning a half-brisket (which is the only way you'll find a brisket that weighs less than about 8 pounds) try to get one that's split lengthwise — that way you'll get both the lean and the fatty meat — at least that's my preference. If you like the lean end (the "flat") or the fatty end (the "point") more than the other, then by all means buy a split brisket that's split the other direction.
Watch this video to see how to trim a brisket with Wayne Mueller of the famous Mueller BBQ in Taylor, Texas. The trimming part begins at 2:45 .
Subscribe to my YouTube channel to get notified of new videos.
Beef brisket in the oven recipe
Print
Prep Time:

10 mins

Cook Time:

Varies

Total Time:

44 minute

Yield:

Varies
1

beef brisket, 3-10 pounds
Rub (for 8 pound brisket):

6 teaspoons

black pepper

1 teaspoon

salt

1 teaspoon

onion powder

1 teaspoon

smoked paprika

1 teaspoon

dry mustard

1/2 teaspoon

cayenne pepper, optional
Instructions
Preheat oven to 250ºF and get out a roasting pan big enough to hold the brisket and put a rack in the bottom. If you have a pan with a lid, use that one. Otherwise, get some aluminum foil at the ready.
If not already trimmed, trim excess fat from the brisket, removing all but about 1/4″ cover fat from the top and cutting out the thick "heel" of fat on the under side of the point.
Combine all rub ingredients in a bowl. Use the full amount for an 8-10 pound brisket, half the amount for a 3-4 pound brisket.
Sprinkle the rub all over both sides of the brisket and press it to adhere.
Place it on the rack in the pan, fat side up.
Cover with foil.
Bake covered, 6-14 hours, depending on size. No basting is necessary. Seriously. Just step off it.
When the brisket is soft and jiggly (see video for visual cues) remove the foil and bake an additional hour to get the spicy crust on it.
Rest, covered, 30 minutes to 1 hour before slicing.
Slice thinly against the grain and serve.
Nutrition
Serving Size:

3 ounces cooked

Calories:

297
Serve your brisket with perfect potato salad, charro beans, sliced onions and pickles, and lots of slice white bread!
And no brisket post would be complete without an exhaustive list of things to do with leftover brisket because Lord knows you're going to get tired of it if there's only two of you eating it.
What to do with leftover brisket:
Cut up leftover brisket and make a big pot of Texas Chili. You'll only need to simmer everything for 30 minutes, making it a super quick chili, too.
Use leftover brisket minced up in a Shepherd's Pie, which would then technically be called a Cottage Pie but I'm really just telling you that so you know the truth. I never call it a Cottage Pie.
Throw that brisket in a burrito! Brisket Burrito!
Shred it up, season with chili powder, sauteed onions, and plumped up raisins and use it to fill chiles rellenos! Dude. I can't believe I just thought of that. I'm totally doing it this week!
Something I made up for lunch yesterday, I called it "German Stir Fry": sliced brisket stir fried with cabbage, onions, garlic, then I threw in some sauerkraut. I am aware of how weird and even yucky it sounds, but it was good. Pinky swearz.
AND you can freeze leftover brisket if you chop it and cover it in barbecue sauce to keep the air out. Reheat it with the sauce and you basically have yummy chopped beef for sandwiches! Damnit, I am just FULL OF GOOD IDEAS.
Let me know in the comments if you have any other genius ideas for what to do with leftover beef brisket!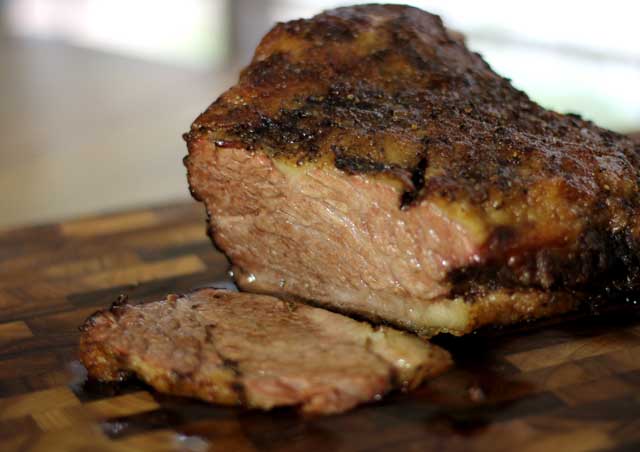 376 Comments