Cardamom and Persimmon Cobbler
Y'all, this is my new favorite dessert. I love cardamom — peppery, citrusy, bergamoty — and Fuyu persimmons — floral and sweet and crisp — and together they have made the most wonderful prize: cardamom persimmon cobbler.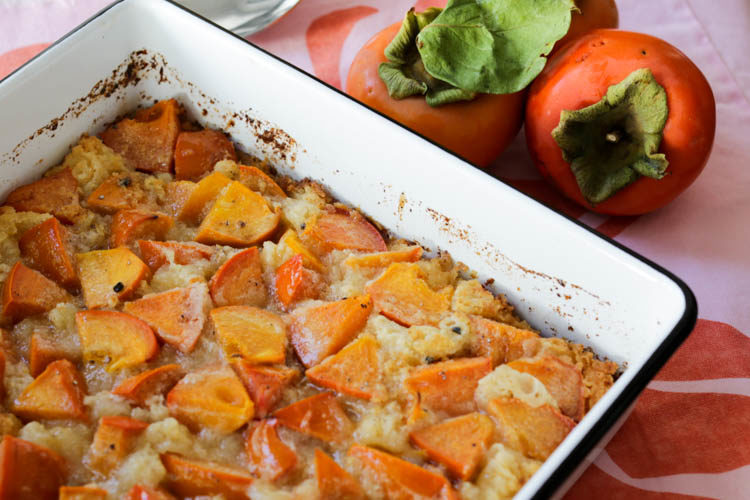 I started with my mom's peach cobbler recipe and made it a little fancy. Upped the fruit content, lowered the sugar content since persimmons can be cloying, popped in a little lime juice for balance, and added quite a lot of freshly crushed cardamom seeds.
If you're unfamiliar with cardamom and are having many, many doubts about this dessert, please try straining the milk before adding it to the batter. While I love the soft, spicy crunch of a cardamom seed betwixt my teeth, you might not and that is okay. If you only have ground cardamom in your cabinet, that's fine, too; use 1/4 teaspoon ground cardamom mixed into the persimmons and forget about steeping the milk.
If you are unfamiliar with persimmons, you might prefer to omit the cardamom altogether to be able to better isolate the persimmon flavor on your palate. Listen to me giving advice … the best advice I should be giving you is to get thee to a farmers' market or produce section and pick up about four Fuyu persimmons while they're in season now. If you have a friend with a tree and can get persimmons for free, even better, because those suckers cost over a buck each sometimes.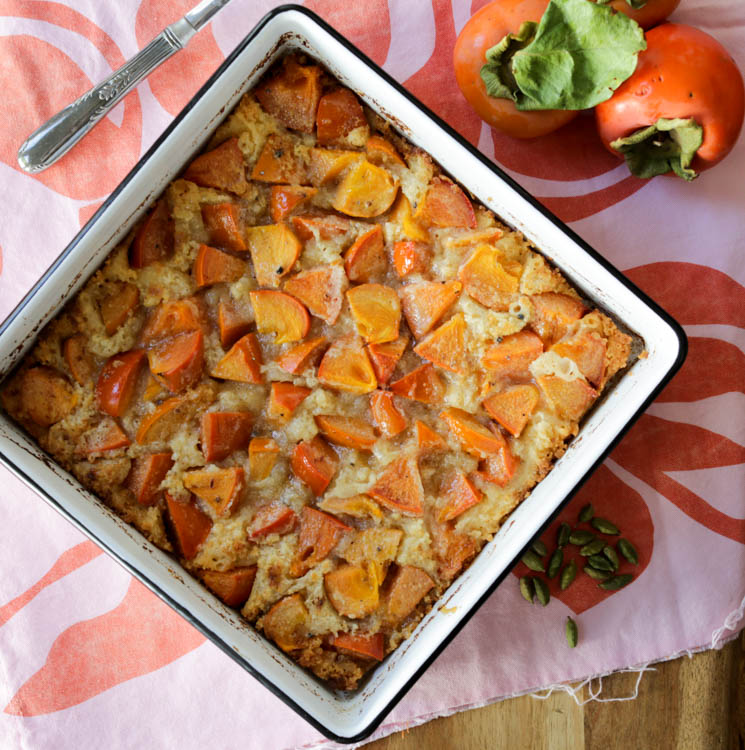 Fuyu are the ones shaped like a flattened ball or a UFO or a donut without a hole. They are sweet and good even when still firm and you can use firm to slightly soft Fuyu persimmons in this cobbler. The other common variety is Hachiya, which are more acorn-shaped and must be eaten only when completely ripe and soft or else they are too astringent. Those will not work in this recipe (those I prefer to just eat out of hand, with a spoon for scooping).
Serve this on it's own (fantastic) or with vanilla ice cream or whipped cream (almost doubly fantastic). Leftovers are marvelous for breakfast and they reheat fine in the microwave although you lose the crisp, buttery crust that serving immediately from the oven provides.
Print
Cardamom and Persimmon Cobbler
8 tablespoons butter (1 stick)
8 whole green cardamom pods
3/4 cup milk
4 Fuyu persimmons (about 3 cups cubed persimmon)
2 tablespoons lime juice
1/2 cup + 2 tablespoons sugar, divided
3/4 cup flour
1 teaspoon baking powder
1/2 teaspoon vanilla extract
1/4 teaspoon salt
Instructions
Chop the butter into fourths and put into a 2-quart baking dish (8×8 square or round). Set the oven to 350ºF and put the dish in the oven to melt as the oven preheats.
Crack the cardamom pods and remove the black seeds inside. Discard the green shells. Use a mortar and pestle to grind enough seeds to make 1/4 teaspoon ground cardamom.
The rest of the whole seeds go into a small pot with the milk. If you're the type to totally forget about the milk until it boils over (like me) go ahead and start with 1 cup of milk to cover your ass. Bring the milk to a simmer, then turn off heat and let it sit until cooled. (As mentioned above, you can strain the seeds out after it's cooled if you want. I like to leave them in.)
Cut the persimmons into six or eight wedges depending on size. You'll have to pop the seeds out but they are big and easy to find (there's usually 5 in each). Cut the wedges crosswise into thirds. You want cubes no bigger than 1/2 inch, even smaller if you are using very firm fruit. Toss the persimmon bits with the lime juice and 2 tablespoons of sugar and the 1/4 teaspoon ground cardamom.
Check the oven! Your butter is probably melted. Take it out so it doesn't burn but if it's a little browned, that's gonna be just fine.
In a medium bowl, whisk the remaining 1/2 cup sugar, the flour, baking powder and salt. Add cooled milk and vanilla extract. Whisk until mixed. Pour batter into the buttery pan and shake to spread it around.
Top evenly with persimmons and pour any remaining juice over the top.
Bake 35 minutes or so until the edges are bubbling and the center is set. Serve warm or at room temperature.
Nutrition
Serving Size:

1/2 cup

Calories:

225

Fat:

11

Carbohydrates:

32

Protein:

2