It's only been, like, a MILLION years since I posted any "bonus" recipes on here that aren't affiliated with a video recipe and this one doesn't even count for that because you'll see it in tomorrow's Shrimp Corndog episode as a dipping sauce. But cut me some slack, please! We have a lot of irons in the fire right now and would be popping the tops of our heads off if it weren't for the support of you fine people (and alcohol). So please and thank you!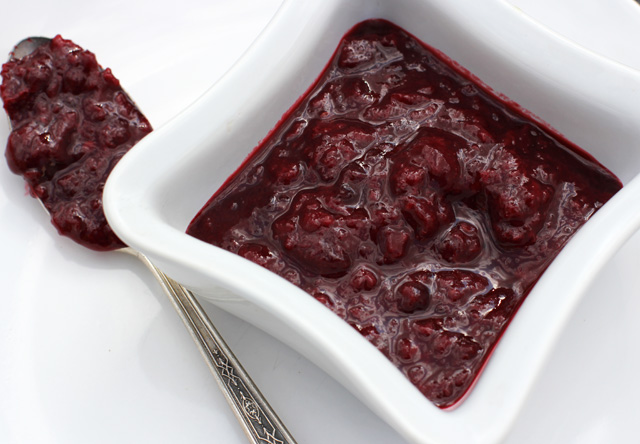 This sauce is sweet and hot and smoky and I think it would go well with many other things as well, thinkin' like duck or pork maybe? And it's easy-as-hell. If you don't want to use hard cider, apple juice would work I'm certain.
OHMYGODYOUGUYSSTOP. BREAKING NEWS UPDATE. I just had this with some pepperjack cheese (sometimes I eat cheese with dips, yes) and it was AWESOME. I need to get a block of cream cheese to pour this over and then eat the whole thing with an entire sleeve of Saltines next. I'm pretty sure that will be awesome, too. I'll let you know.
Print
Cherry Chipotle Sauce
3/4 cup

(

6 ounces

) hard apple cider

1/2 cup

pitted cherries (I used frozen)

1/2

chipotle pepper in adobo (may want to seed this bad boy)

1 teaspoon

fresh lemon juice
Instructions
Combine the cider and cherries in a small pot and bring to boil. Cook until cherries are beginning to break down and cider is reduced by half.
Add the chipotle and puree with an immersion blender – be careful, it might splatter cherry juice all over your new shirt.
Add the lemon juice and taste. You might want to add more lemon or a pinch of salt.