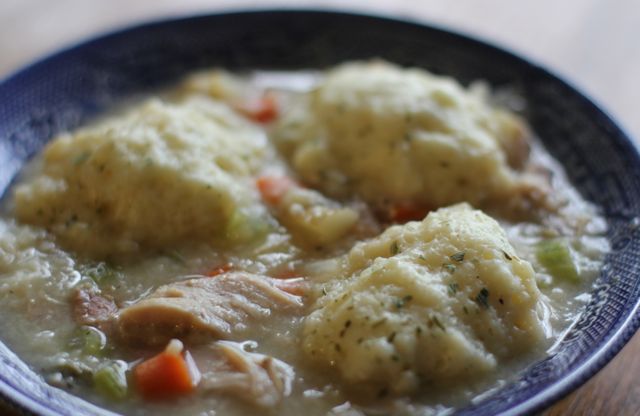 The sky is dreary as can be and I've been feeling extraordinarily lazy today, still recuperating from hosting my first complete Thanksgiving dinner, which means I also have a fridgerator full of Thanksgiving leftovers at my fingertips. Given those facts, what could be better than soup with dumplings and all-day movies? Nothing.
Without further ado because I am really, really tired and I need to get back to watching The 'Burbs, here's how to make chicken and dumplings! (Or turkey and dumplings as I did today.)
Print
Chicken and Dumplings
Old-fashioned chicken and dumplings with homemade dumplings
6 cups

broth

1 cup

diced carrots (about

2

medium)

1 cup

diced parsnip (about

1

large) or potato

1/2 cup

diced celery (about

2

stalks)

2

–

3

cups leftover chicken or turkey

1/2 teaspoon

tarragon
Salt and pepper to taste
Dumplings

2 cups

sifted flour

4 teaspoons

baking powder

1/2 teaspoon

salt

2 tablespoons

butter or oil

1

egg

3/4 cup

milk
Instructions
Directions
Put all the vegetables in the broth in a large stock pot and bring to boil.
Add the chicken or turkey and seasonings and reduce heat to medium-high while you make the dumplings.
Sift the dry ingredients together then add the butter or oil and mix with a fork.
Beat the egg with the milk and add to the dry mix. Stir to combine.
Bring the soup back to a boil and drop the dumplings in by tablespoonfuls, using one spoon to scoop up the batter and another spoon to scrape it off into the boiling soup.
Keep adding dumplings until the top is covered.
Reduce heat and simmer gently, 10 minutes, covered.
Serve right away.
Notes
Other Thankgiving leftovers that could be added in here in addition to the turkey are leftover mashed potatoes, green bean casserole, and even a little bit of gravy.
The dumpling key is to simmer them gently, with the lid on the pot, to ensure they don't completely disintegrate in your soup.
Read how to make chicken stock