Chicken Enchilada Recipe (Enchiladas Verdes)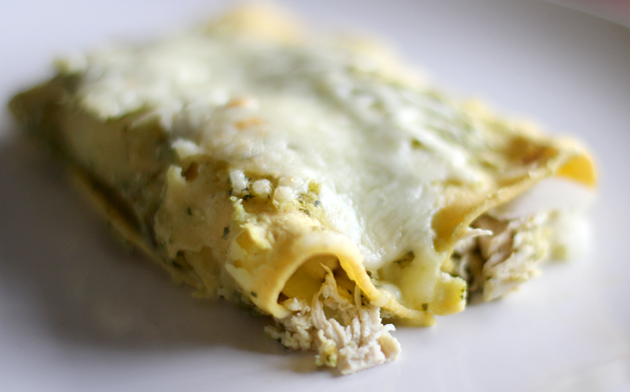 A couple months back, I received an email that gently pointed out to me that there was not a chicken enchilada recipe to be found anywhere on my site. Sacrilege! I was utterly mortified and sought to remedy this egregious oversight post haste! ("Post haste" in this instance evidently means more like what "post haste" meant back in the days of the Pony Express, ie a couple months.)
Enchiladas verdes was the recipe in particular that was desired — that Tex-Mex favorite, with a fresh tomatillo sauce and shredded chicken filling, topped with melted white cheese and sometimes sour cream.

She who desired it was actually a classmate of mine from high school English with whom I had failed to keep in touch lo these many (15!) years. I remembered her though, particularly because of her extraordinary writing. Once she wrote a poem for class that I really liked and I asked for a copy of it and then took it home and read it to my BFATT (boyfriend-at-the-time) and by virtue of not telling him that someone else wrote it, I implied that I myself had written it and I imagined that he thought I was a genius poetess, except that the poem mentioned both Devo and Cuisinart and I knew not the correct pronunciation of either and therefore was busted.
So, to make up for trying to claim authorship of her poem in a misguided attempt to impress my D-bag-BFATT, I dedicate this chicken enchilada recipe to Christine.
Chicken Enchilada (Enchiladas Verdes) Video
Chicken Enchilada Recipe
First, make the sauce:
Print
Green Enchilada Sauce
Author:
Cook Time:

10 mins

Total Time:

10 minutes

Yield:

3

1

x
1 1/2

pounds tomatillos, husked and rinsed

1

–

2

serrano peppers

3

cloves garlic

1/2 cup

diced onion

1 cup

cilantro, leaves and stems

1/4 teaspoon

salt
Instructions
Place the tomatillos, serranos, and garlic cloves on a baking sheet and put under the broiler for 2-3 minutes. Turn the tomatillos and broil another 2-3 minutes until blistered and blackened all over.
Let cool slightly then stem the serranos and peel the garlic. Transfer the broiled vegetables to a blender. Stab the tomatillos with a fork to release their juice and make blending easier.
Add the onion and cilantro and salt and blend until smooth.
Notes
If you don't have a broiler, you can boil the tomatillos and peppers for about 5 minutes, then drain and proceed with recipe. If you can't find fresh tomatillos, use a one pound can and skip directly to the blending step (after draining them of course) and since reader Lynda pointed out that most canned tomatillos are packed in brine, you probably won't need to add any salt to the salsa if you use canned tomatillos.
Print
Chicken Enchilada Recipe (Enchiladas Verdes)
Author:
Prep Time:

20 mins

Cook Time:

15 mins

Total Time:

35 minutes

Yield:

6

1

x
1

pound boneless, skinless chicken breast

1/2 teaspoon

dried oregano

1/4 teaspoon

each salt and pepper

1/2 cup

diced onion

3 cups

green tomatillo enchilada sauce (from above recipe)

12

corn tortillas

1/2 cup

grated white cheese
Instructions
Instructions
First poach the chicken: Put it in a pot with just enough water to cover it. Add some salt and pepper, about a teaspoon of each. Cover and turn heat to medium-high. Bring to low boil, then turn off heat and let chicken sit in hot water for another 10 minutes. This method of poaching prevents the chicken from getting tough. (If using bone-in breast, allow the chicken to stay in the hot water for 15-20 minutes.)
Remove the chicken from the water and let cool slightly then shred using 2 forks. Sprinkle with oregano, salt and pepper and set aside.
Sprinkle a few drops of water on each tortilla then heat them in the microwave 30 seconds. Flip the stack and heat again 30 more seconds or until they are soft and pliable.
Pour about half the sauce into the bottom of a 9×13″ pan.
Dip each tortilla into the sauce, then fill with a couple tablespoons of chicken, a little diced onion, and roll up.
Once all the enchiladas are rolled, pour the remaining sauce over the top and sprinkle with cheese.
Bake at 350 for about 15 minutes to melt the cheese (or microwave).
Notes
For Sour Cream Enchiladas: Once the enchiladas are rolled and placed in the pan, add 1/2 cup sour cream to the remaining green sauce and pour it over the enchiladas. Top with more cheese if desired and bake as directed.