Coffee-rubbed Ribeye with Jalapeño Butter
Coffee-rubbed Ribeye Steak with Jalapeño Butter video (scroll down for recipe)
I've seen recipes for steaks rubbed with coffee about a hundred times, but the ones I've seen call for using instant coffee, which is a thing I never ever keep in the kitchen (nor do I really want to). I dared myself to try it with some plain ol' ground coffee and whaddaya know? It works! Rubbing steaks with coffee adds a deep, roasted flavor without the use of an outdoor grill — though if you cook it right, you'll still likely set off your smoke alarm.
These steaks with a coffee and chili powder rub are fantastic on their own if you'd rather keep it simple, but this jalapeño butter adds a bright, sweet note. Plus, jalapeño butter is completely amazing spread onto toast or jalapeño cornbread if you happen to have some around. Serve these yumyum steaks with steak fries, or some roasted asparagus.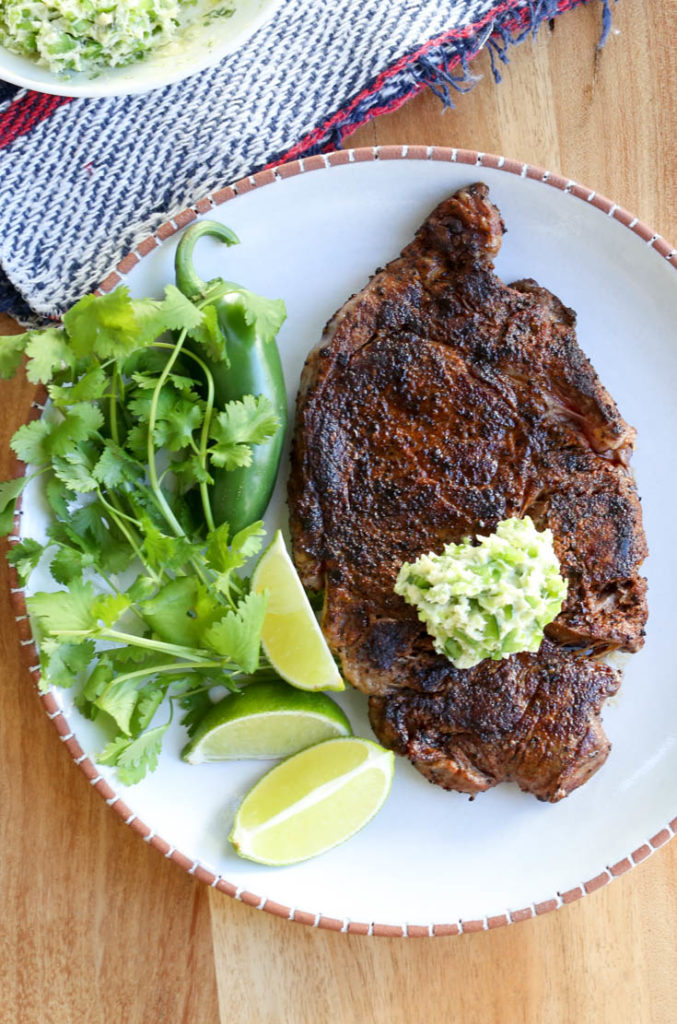 Coffee-rubbed Ribeyes with Jalapeño butter recipe
Print
Coffee-rubbed steaks
1

pound beef steak, about 1″ thick (ribeye is my preference)

1 teaspoon

chili powder

1/2 teaspoon

salt

1/2 teaspoon

ground coffee or instant coffee powder

1/2 teaspoon

black pepper
lime wedges for serving
Instructions
Combine dry seasonings and rub into steak on both sides.
Heat a heavy skillet over high heat. Add steak. Reduce heat to medium. Cook 8 minutes. Turn. Cook an additional 6-9 minutes depending on preference. Remove from skillet and let rest on cutting board for 5-10 minutes.
Serve topped with jalapeño butter and a squeeze of lime juice.