Corn and Basil Salad recipe updated for 2017!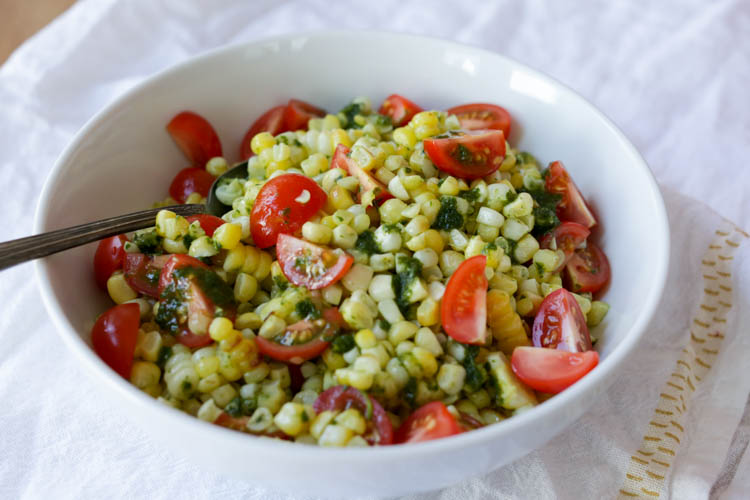 My sweet friend Nat's birthday is in May. This year, she had her friends over for dinner and we like to cook together so of course I was over there early. I'd just gone out to Johnson's Backyard Garden and brought her a big box of produce as a birthday present. Of the many wonders inside the box, the big fat basil bunch was a real stand-out. She also had some corn to cook, among other things. When she turned around to tend to the lamb roast, she left me alone with her coveted mini-food processor and the beautiful basil and a giant bottle of olive oil staring me in the face and before I knew it, basil oil was made. Then there was a conversation like this:
Hilah: Hey, Nat. I made basil oil.
Nat: Oh, good.
Hilah: I think I wanna put it on the corn.
Nat: Oh, good.
That is one of my favorite things about Nat. She always says things are good and if you don't know her, you might think she is being sarcastic but she isn't. People have told me the same thing so maybe that is why we get on so well.
Well, the corncobs drizzled with basil oil was a raging success and provided the inspiration for this salad which I had for dinner last night. All of it.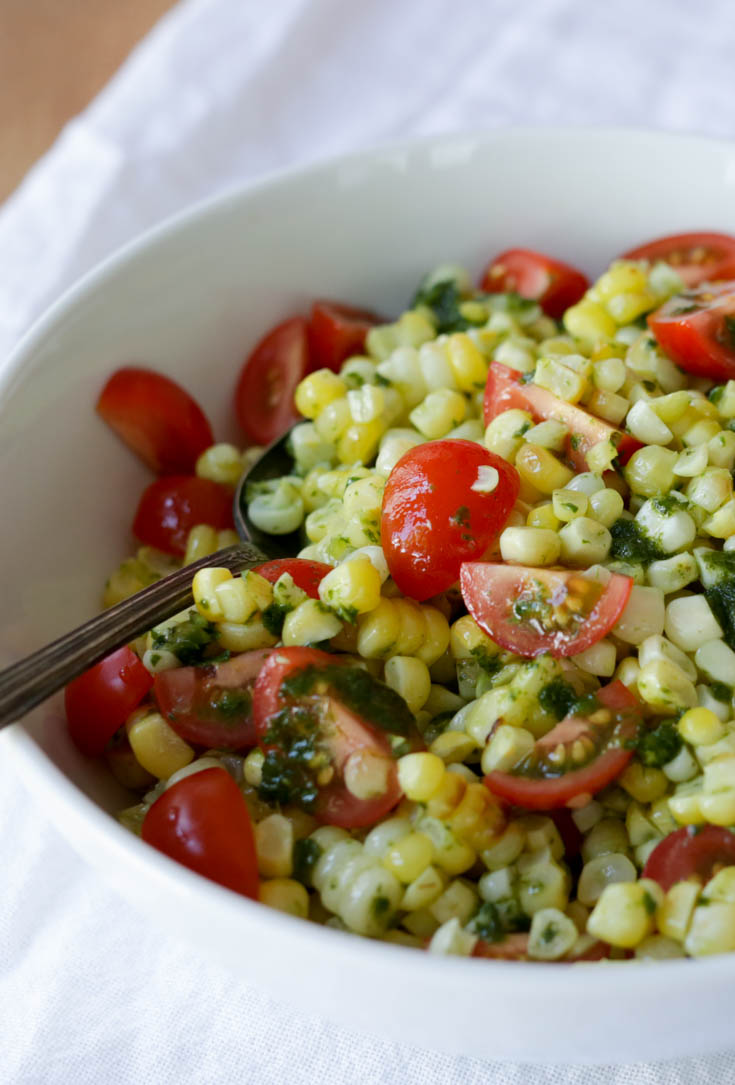 Corn and Basil Salad
Print
Corn and Basil Salad
A quick, healthy salad that uses fresh or frozen corn and fresh basil oil
4

ears of corn

1 teaspoon

vegetable oil

1/2 cup

diced tomato

1/2 cup

basil leaves (

2/3 ounce

weight)

1/3 cup

olive oil

1/2 teaspoon

salt
Instructions
Husk the corn and remove the silks.
Rub each ear with some of the vegetable oil.
Broil on high, 4-5 inches from the heat, turning once or twice, for 10 minutes. The corn will be browned in spots and softened all over. Remove and cool to handle.*
Combine the basil, olive oil, and salt in a blender or food processor and whiz around until smooth.
Cut the kernels from the corn and put in a bowl with the diced tomato.
Dress the salad with the basil oil.
*You can also just drop the corn into boiling water, cover and return to boil, cook for 3 minutes, then remove and proceed.