Cucumber Salad Recipe Video – scroll down for recipe
Subscribe to my YouTube channel to get notified of new videos.
Cucumber salad a great thing to make the day before a big party because it just gets better in the fridge for the first couple days. After that, it's still good, but definitely best if eaten within 2-48 hours of making it. Serve it with any grilled meat or even with sandwiches. A good rule is, if you'd serve pickles with it, you can serve cucumber salad with it, too.
My mom used to make this often and it was always one of my favorites. She called it "quick pickles". Now, my friend Steph makes this for just about every potluck. She calls it "cucumbers'n'onions" and she makes the best. I tried to get her recipe once, but she just said, like anyone who's been improvising the same recipe for years, "a little vinegar, a little sugar, yadda yadda, you know". So I had to do some actual measuring (blech!) and adjusting, but this here's a pretty good copy-cat recipe of Steph's cucumbers'n'onions.
Cucumber Salad Recipe – printable!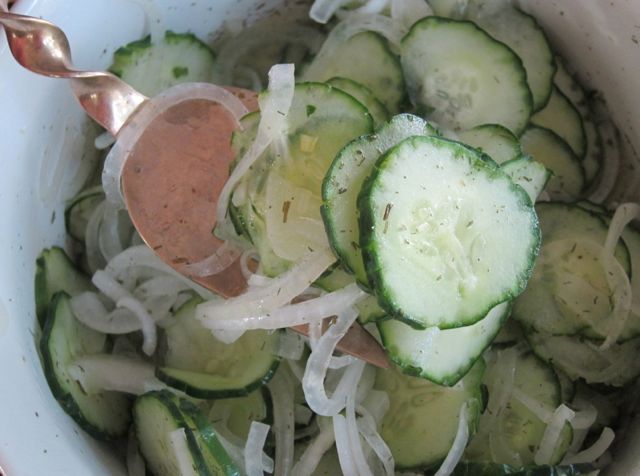 Print
Cucumber Salad
1

large cucumber

1

small white or yellow onion

1/3 cup

vinegar (rice, white wine or champagne vinegar preferred)

2 teaspoons

sugar
Pinch of salt
Optional: 1/2 teaspoon dried dill weed
Instructions
Use a fork to score the cucumber lengthwise, all around, cutting through the skin.
Slice very thinly.
Peel the onion, halve it, and slice into thin half-circles.
Dissolve the sugar and salt in the vinegar in a large bowl.
Add the cucumber, onion, and dill if using.
Refrigerate 1-2 hours before serving.
Notes
This keeps well in the refrigerator up to 48 hours, and keeps decent in the fridge up to 56 hours.
If you like this cucumber salad, take a peek at this great tabouli recipe, it also travels well and can be made ahead of time!