Easy Beet Salad or Beet Spread
If you like beets, you'll like this easy beet salad that you can also use as an easy beet spread on crackers and such. Grated beets, lemon juice, plain yogurt and finely chopped toasted walnuts are all you need. Well, and salt. And love. I serve it as a side salad sometimes, and other times I just have it with crackers or pita chips as a "spread lunch" along with hummus and whatever vegetables I have laying around. Beet salad is a mighty pretty picnic food, too.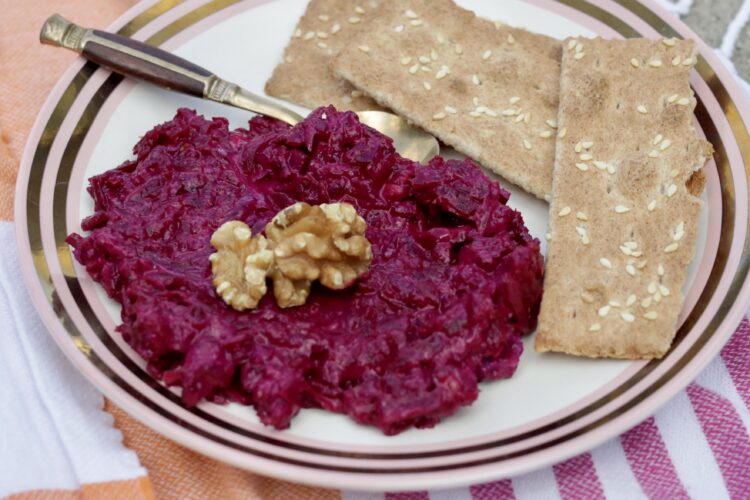 For our first summer vacation in two years, we went to stay with our friends on their boat in the Mediterranean. I could be sarcastic but I won't. It was really a magical journey that also made me appreciate the skill and dedication it takes to live on a sailboat.
This beet salad was something Captain Ash was excited to share with us, as he'd been making it often on the boat. It's quick to make, keeps well and, like I said, it's versatile.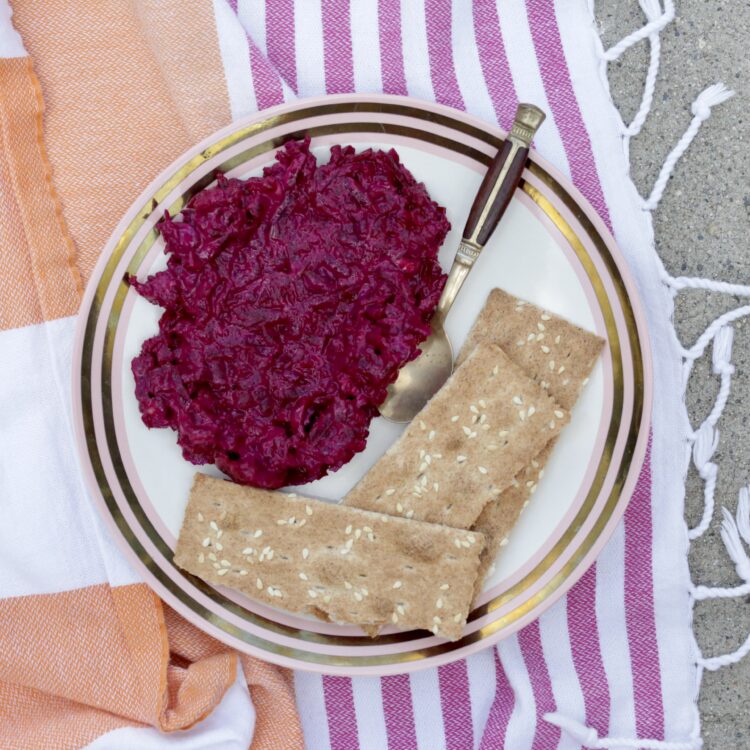 The gist of it is: get some fresh beets and boil them. The time depends on their size, so try to get small beets if you're making this on a boat with a limited fuel supply, or if you are kind of lazy and/or in a hurry. Sometimes I think small beets are sweeter than big'uns but I have no proof.
Grate the beets and you don't even have to peel them because the peels will just be left behind like tiny, red rags in your hand. Speaking of hands, the beets will stain yours, so wear gloves if you are a hand model with a gig in the next two days.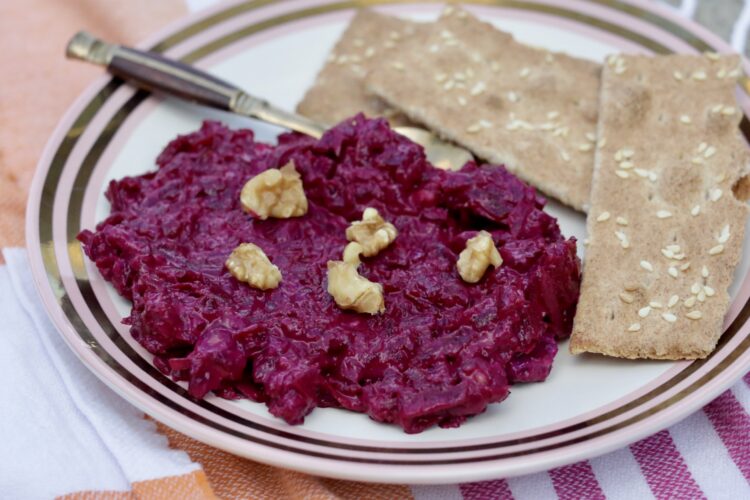 Print
Easy Beet Salad (or Beet Spread)
Author:
Prep Time:

5

Cook Time:

15

Total Time:

20 minutes

Yield:

2 cups

1

x
1 pound fresh beets
1 tablespoon lemon juice
2–3 tablespoons plain yogurt
1/4 cup finely chopped toasted walnuts
1/2 teaspoon salt or so
Instructions
Boil the beets until tender. Remove from water and let cool.
Grate them on the large holes of a grater.
Mix the grated beets with everything else and taste. You might want more salt.
Nutrition
Serving Size:

1/2 cup

Calories:

133

Fat:

4

Carbohydrates:

12

Fiber:

3.5

Protein:

3