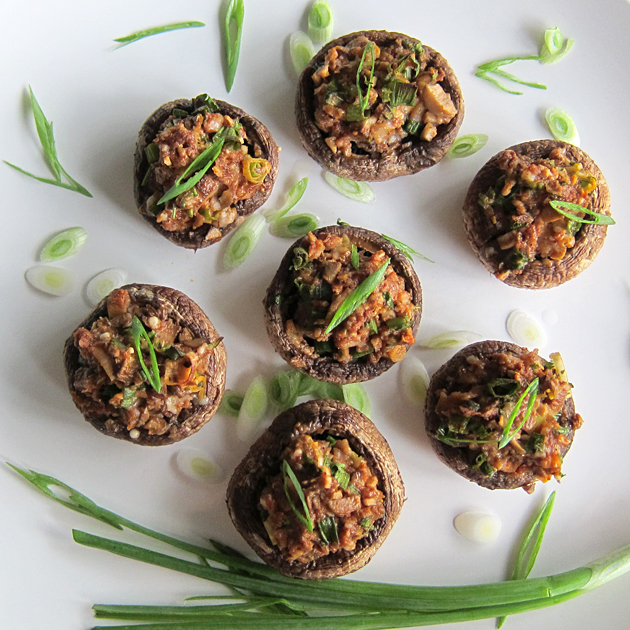 This is seriously like the easiest recipe in the universe, but I've also said that before about other recipes so you probably don't want to take that statement literally, but it is super-duper easy. In under 5 minutes, watch as some stuff you found in your fridge turns magically into an appetizer you could take to your work parties or somewhere else where maybe there's people you want to impress or something and actually have that happen.
Like, impress people, I mean.
Trust me. It feels really good.
Print
Easy Stuffed Mushrooms
16 ounces

button mushrooms (about

16

medium-sized 'shrooms)

6 ounces

fresh chorizo sausage (or breakfast or Italian or whatever's fressshhh)

2

green onions, thinly sliced

2 teaspoons

fresh chopped herbs (cilantro, parsley, oregano, thyme, sage – whatever goes with your sausage)

2 tablespoons

grated parmesan
Pinch of salt
Instructions
Preheat the oven to 375 F
Wipe the shroomies off with a dry towel to get the dirty bits off.
Pop the stems out and reserve.
Scrape out the cavities with a small spoon to make a good-sized hole.
Mince the mushroom stems and combine with the chorizo, onion, herbs, and parmesan.
Place the mushroom caps on a baking sheet (maybe covered with foil if you're feeling lazy and not like cleaning later) and sprinkle with a little salt.
Fill each cap with 2-3 teaspoons of the mixture, mounding it up.
Bake 20 minutes.
Serve hot or at room temperature.
Notes
With the chorizo sausage, I used cilantro and oregano for the herbs.
If you were using an Italian sausage, try basil, oregano, and/or parsley.
If you're using a breakfast sausage, thyme, sage, and rosemary would be good.
Also try different cheeses, maybe a sharp cheddar with breakfast sausage or ricotta salata with Italian. Mix it up! Have a crazy mushroom party!
Other mushroom appetizers you might like: Mushroom duxelles in puff pastry