Mushroom Duxelles in Puff Pastry
If you don't know, duxelles is just French for "mushrooms cooked down into paste". Mushroom paste?
Blech. No wonder they made up a fancy-sounding word for it.
But it is yummy if you're into mushrooms. If you're not, I completely understand because I have hated mushrooms my whole life until very recently when I had them Spanish-style braised in sherry and garlic. I was transfixed and never again will I turn my nose up at a mushroom… unless it's too mushroomy.
You can use duxelles as a stuffing inside butterflied chicken breasts or pork chops. It's required when making Beef Wellington. It would also be lovely in an omelet. And as a matter of fact, it goes great with cream cheese in puff pastry, which should be obvious because really what doesn't go great with cream cheese in puff pastry?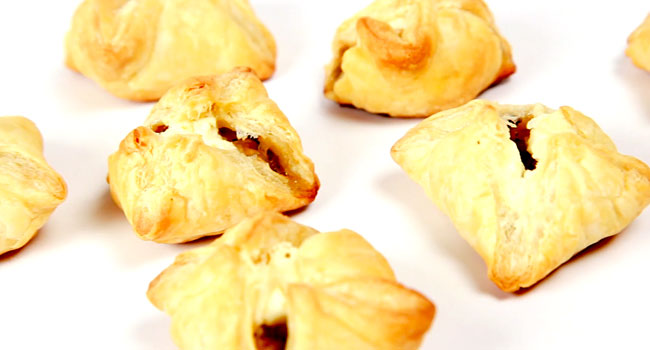 Short answer: nothing.
BUT. WAIT. STOP. THE. PRESSES.
Before we go any further, I need you to imagine that you hold in your hand a jar of that sweet and spicy Nectar of the Gods known as jalapeno jelly. Now imagine it used as a dip for these crisp, savory puff pastry nibblies.
Great. Now we can all relax.
Mushroom Duxelles Video
Print
Duxelles in Puff Pastry
Hearty appetizers filled with mushrooms, shallots, and cream cheese
8 ounces

mushrooms, minced

1

large shallot, minced

2 tablespoons

butter or olive oil

1 teaspoon

dried thyme
salt and pepper

2 tablespoons

sherry or dry white wine

3 ounces

cream cheese

1

pound puff pastry
Instructions
Preheat the oven to 400 degrees F and line a baking sheet with parchment paper.
Melt the butter over high heat and add the mushrooms, shallots, and thyme.
Cook for about 5 minutes or until most of the liquid has evaporated.
Add the sherry and cook another few minutes.
Remove from heat and let cool.
Sprinkle a smooth work surface with flour and roll one sheet of puff pastry out into a rectangle, about 9″x12″.
Cut into 12 squares.
Put 1 tablespoon of the duxelles and 1 teaspoon of cream cheese in the center of each square.
Moisten the edges with water and pull up the corners of the pastry to make a little packet.
Put them on the parchment-lined sheet and bake 20-25 minutes.
Repeat with the other sheet of pastry and the remaining filling.
Cool 10 minutes before serving.
Also try these easy stuffed mushrooms!