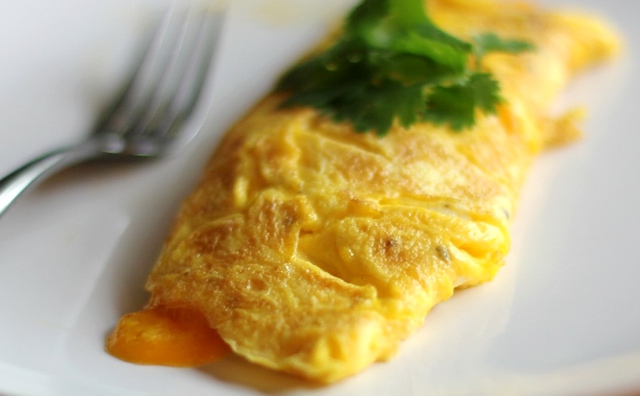 Evidently I'm on a French-kick this week.
Duxelles, puff pastry, wine (secretly, of course). What's next?! I grow a skinny moustache and start reciting poetry at a quaint sidewalk cafe?! Sacre bleu!
BUT, we are rapidly approaching EPISODE 100, y'all! I swore to myself that by episode 100 I'd have ALL the basics covered in video form. Erm… not really sure how well a job I've done on that, but by this here video demonstration and recipe of how to make an omelet, I certainly am a tiny bit closer at least.

(I know that many who've been watching the show for a while might remember that we actually did do an omelet video last year. But I wasn't happy with it because it was more like a frittata than an omelet and I am a total primadonna so I deleted it and made Chris re-shoot it. I'm such a jerk!!!)
I love a good omelet. A good omelet to me is ever-so-slightly browned in butter on the outside, but still creamy and soft on the inside. A good omelet always has cheese in it, and pickled jalapenos when I'm in the mood. A good omelet only takes 4 minutes to make, and really, that in itself is reason enough to learn how to make a good omelet. Fastest meal ever!
The most important thing to have when making an omelet is a pan, about 7-9 inches diameter, with sloped sides. It can be well-seasoned cast iron, steel, or even (shudder!) Teflon; as long as it's got sloped sides, you're good.
The second most important thing is to melt your butter up over a high temperature before putting the eggs in. This will keep the eggs from sticking to the pan (although that's not a problem if using Teflon, and in fact you should refrain from ever over-heating or heating an empty Teflon pan). Once the butter is melted, it will start to foam up; after that it will start to brown. You're looking for the sweet-spot right after foaming but right before browning. Pour your eggs in then.
Okay, I think that's about it. Happy Omelet Making!
How to make an Omelet – VIDEO Demo!
Omelet Recipe – Printable card!
Print
Cheese Omelet
French omelets are super-fast and easy!
2

eggs

1/4 teaspoon

salt

1/4 teaspoon

pepper (or more)

2 tablespoons

butter

2 tablespoons

grated cheese
Instructions
Beat the eggs with the salt and pepper until the yolks and whites are fully incorporated.
Heat a skillet over high heat with the butter.
Once the butter has foamed up, pour in the eggs.
Turn the heat down to medium-high.
Use a fork or a thin spatula to lift the edges of the egg as they cook, letting the raw egg run underneath.
Continue moving the egg around this way and shaking the pan occasionally until the top is almost set.
Sprinkle the cheese over half the omelet. (Now is when you would add any other fillings you like, too.)
Use the fork or spatula to gently lift the other half of the omelet and fold it over the cheese.
Roll the omelet out of the pan and onto a plate.
Enjoy!