Eggs Benedict always seemed like the MOST FANCY thing on the planet to me when I was a kid. Not that I'd ever eaten it. I'm sure that's why it seemed so fancy. I don't even know how I heard about it; well, probably I read about it in a cookbook. Oh, little Hilah – always got her nose in a cookbook. That's what they used to say.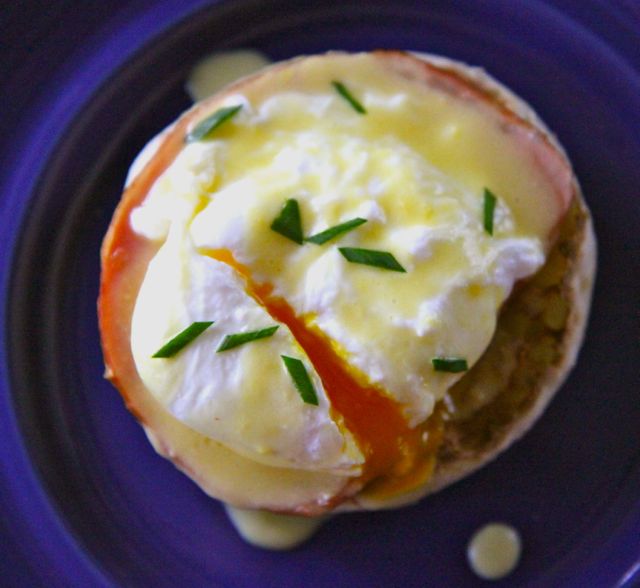 At any rate, although Eggs Benedict IS pretty fancy, I no longer think it's the MOST FANCY, because I know how to make it myself. And I know that Canadian bacon is really just ham, and English muffins are not really muffins, and poached eggs aren't rocket science (see video below) and Hollandaise sauce is just like mayonnaise. When you break it all down, it's not so hard. But, as Aristotle said: The whole is greater than the sum of its parts.
He was probably not talking about Eggs Benedict, but I think it still applies.
Eggs Benedict Video
Eggs Benedict Recipe – Printable
Print
Eggs Benedict
Hollandaise Sauce:

3

egg yolks

4 1/2 teaspoons

water

10 tablespoons

butter (

5 ounces

) preferably unsalted

1 tablespoon

lemon juice (or to taste)
Salt to taste (1/4 teaspoon if you used unsalted butter)
Dash hot sauce, such as Tabasco (optional)
For Serving:

2

English muffins, split

4

hearty slices Canadian bacon

4

poached eggs
Optional: sauteed spinach or asparagus
Instructions
Make the sauce:
Find a metal bowl with as round a bottom as possible and then find a pot it will fit inside, leaving enough room underneath for about an ind to an inch and a half of water, making sure the water doesn't touch the bottom of the bowl.
Melt the butter in a pot or cup with a spout and set aside.
Whisk the egg yolks and 4 1/2 teaspoons of water together in the bowl, place the bowl in the pot of water, and place the pot over medium-low heat.
Whisk the yolks over the heat for about 5 minutes, until the yolks thicken and the whisk begins to leave trails through the yolk.
Slowly begin whisking in the melted butter in a steady stream, whisking constantly.
When half the butter is added, reduce heat to low and add the rest, making sure to leave the white butter solids behind in the bottom of the cup.
Cook, whisking, another 30-60 seconds until the sauce has thickened.
Turn off the heat and add lemon juice, salt, and hot sauce to taste.
Cover and leave over the warm water while you poach the eggs and toast the English muffins and Canadian bacon under the broiler.
To assemble: Place one English muffin half on a plate, top with a slice of bacon and a poached egg. Drizzle with Hollandaise sauce and serve with a side of spinach or asparagus if you wish
Or watch to poach an egg on YouTube!
 Roasted asparagus would be a fine accompaniment, my friends.