Roasted Asparagus with Chili Oil and Lemon
Roasted Asparagus with Chili Oil and Lemon Recipe Video (scroll down for printable recipe)
Roasting, if you are unawares, is most likely the best thing you can do to any vegetable. Asparagus takes particularly well to this treatment. Once roasted, it becomes sweet and juicy with a good, toothsome texture. I'm not really sure what toothsome means, but it makes me think of saber-toothed tigers and thereby warms my heart with the excitement of getting mauled.
Anyways.
When you're looking to buy asparagus, check the tips. They should be firm and tight, not soft or wet-looking, and the little "scales" should be tightly closed, not flopping all open for the world to see underneath their skivvies. The diameter of the stalks – thick or thin, fat or not – matters little. I prefer the thicker stalks because they hold up better to roasting and sauces, and I think they taste better. You may like the skinny ones because they are cuter and that is okay with me. You buy whatever size asparagus stalks you like.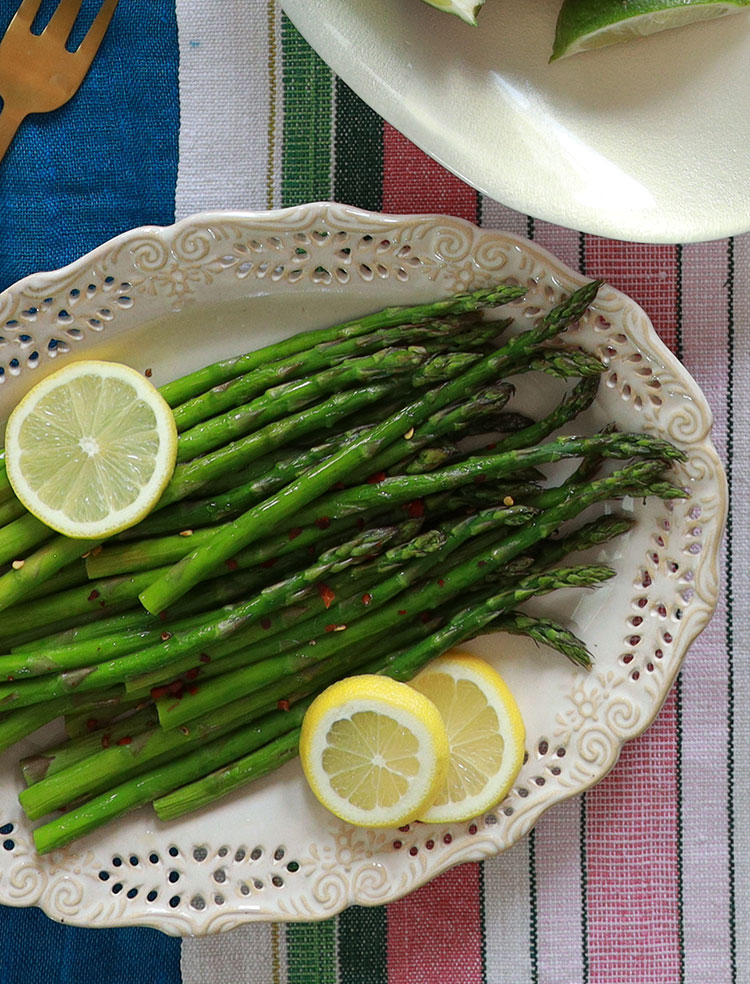 To prep them, all you need to do is rinse them off and remove the bottoms which may be tough. Snap them off individually or snap one off and then use that to approximate where the others need to be trimmed and chop them off with a knife, which is how I do it. Fast and violent. Like a saber-toothed tiger.
Here's what you need to roast 2 pounds of asparagus, which will feed 4 people and probably give you a little leftover to put in your frittata tomorrow. If you don't want it spicy, just use some olive oil or vegetable oil in place of the chili oil. No problemo.
roasted asparagus recipe with chili oil and lemon
Print
Roasted Asparagus with Chili Oil and Lemon
2

pounds fresh asparagus

2 teaspoons

chili oil
Salt and black pepper

1

lemon
Optional: 2 tablespoons grated parmesan
Instructions
Preheat the oven to 450 F
Wash and trim the asparagus and toss with the oil.
Spread out in a single layer on a large baking sheet and sprinkle with salt and pepper.
Add the parmesan now if you like.
Bake 10-15 minutes depending on the size of the stalks, shaking the pan after about 5 minutes.
Remove from the oven and sprinkle with lemon zest and juice to taste.
Serve now or let cool and serve at room temperature.