It seems like I have many stories involving frittatas.
But really, it's just two.
For starters my dad used to make them a lot. He'd always put in leftover bread or pasta or even rice. While he called it a frittata, his were really more similar to a Spanish tortilla because they'd end up being 2 inches thick.
A more interesting story – though perhaps not by much – is about the first time my band was recording. This was about 8 years ago I guess and we were scheduled to be in the studio all day. So obviously we were gonna need sustenance and reinforcements, neither of which we had planned for unless you count a thermos of coffee and a cooler of beer.

But then, mid-morning, like an angel, my friend Natalie showed up with a HUGE frittata, a gallon of orange juice, and a handle of vodka. Brunch-Time!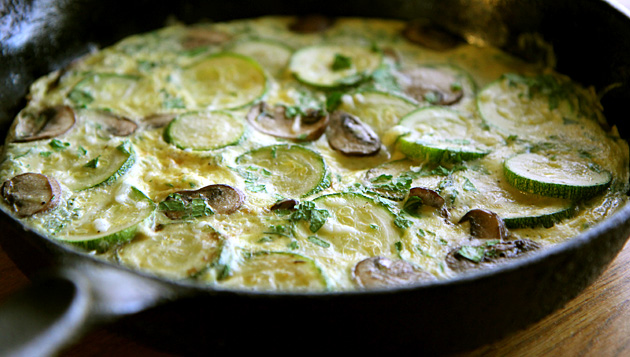 The frittata was 12 inches across and filled with asparagus and ham if I remember correctly, and garnished with tomato slices. There were easily a dozen eggs in it. And it was delicious. And it kept us alive and humming for the duration of the day. Well, it plus the screwdrivers we guzzled like water.
And that's the thing about frittatas that makes them so great. Unlike an omelet, a frittata can sit around a dank recording studio all day and still be plenty edible. Not that I necessarily recommend that, but it's good to know. For example, you could take a slice of cooled frittata on a picnic, or on a long car ride, or munch it while you trot to the bus stop. Make a frittata one day and keep in the fridge for quick breakfasts during the week. That's my suggestion. And I'm sticking to it.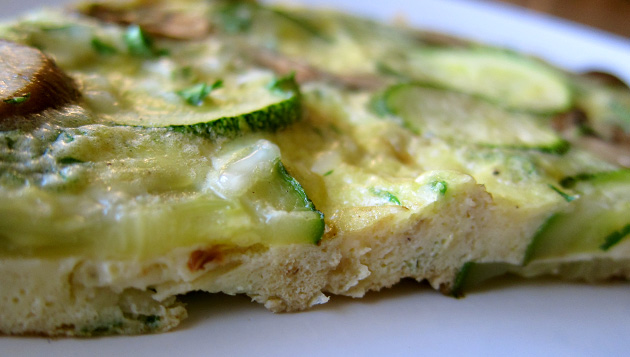 Print
Mushroom and Zucchini Fritatta
1

small zucchini, sliced about

1/4

" thick rounds

4

–

5

button mushrooms, sliced about

1/3

" thick

4

eggs

2 tablespoons

fresh parsley or herb of your choice

2 tablespoons

grated parmesan

1/4 teaspoon

salt

1/4 teaspoon

pepper

1 1/2 tablespoons

butter
Instructions
First beat the eggs with the parmesan, parsley, salt, and pepper.
Melt the butter in a cast iron or other oven-safe skillet over medium-high heat.
Saute the mushrooms and zucchini until soft, about 5 minutes.
Arrange them evenly in the skillet and pour the eggs on top. Make sure the eggs are even, too.
Lift the edges of the frittata as the eggs begin to set to allow the runny eggs to flow underneath.
When the top is nearly set, pop the skillet under a broiler on low heat for about 2 minutes or until just cooked.
Cool briefly then slice into edges and serve warm or at room temperature