Inspired by my hero, Elvira, and the dinner scene in Elvira: Mistress of the Dark, I present Elvira's Adraka Kozerole. If you've seen the movie, the dinner scene is one of the most memorable. It was to me, anyway.
Watch the HilahCooking Halloween special video now to see how to make Elvira's Adraka Kozerole!
Picture this: it was 1988, I was nine years old and probably wearing pajamas. We had a big, honkin' hunk of a TV with four channels, changed by clicking a knob that took all the muscles in my pencil-stick arm to turn. If I remember correctly, the channels we got in Austin were four, thirteen, twenty-four and thirty-two, but don't quote me on that.
(If this sounds familiar to you, too, then we are both in that weird gray area between Gen-X and Millennial.)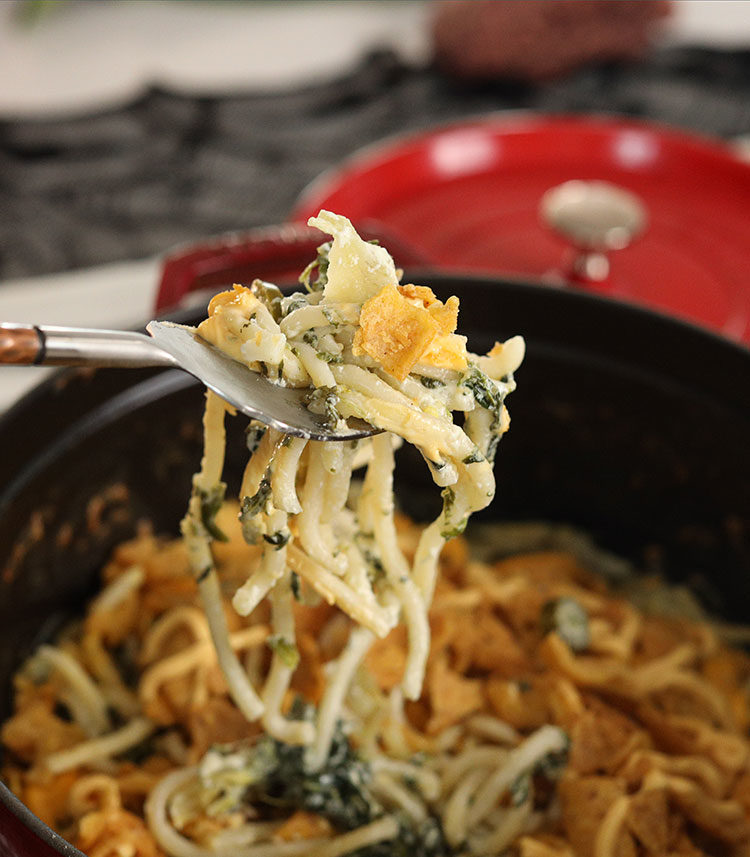 Anyway, Elvira: Mistress of the Dark came on the boob tube (pun intended!) one night and I was smitten. Unfamiliar with her prior Movie Macabre series, it was the first time I'd seen such a funny, independent, confident, sex-positive, badass leading lady on TV. She was immediately my hero; my aspiration.
And when I think about it, I took a lot of my performance inspiration from Elvira during my years as lead-singer of The Hot As Shits. Bless you, Cassandra Peterson.
My version of Adraka kozerole combines fat, wormy pasta with sour cream, spinach, artichoke hearts and a little jalapeño heat. Top that with some squirt cheese and crushed chips and you have a casserole fit for a very hot date (with a terrifying snake monster).
Print
Elvira's Adraka Kozerole
8 ounces thick spaghetti
salt
8 ounces sour cream
10 ounces frozen spinach, thawed and drained
1/2 cup grated Parmesan
12 ounces frozen artichokes, thawed and drained
chopped jalapeños to taste (1-3 pickled or fresh)
1/2 teaspoon garlic powder
Optional: spray cheese and chips for garnish
Instructions
Boil the noodles in salted water. Reserve about 1/2 cup cooking water before draining.
Combine drained noodles with remaining ingredients, plus 1/2 teaspoon of salt.
Bake at 400ºF for 20 minutes.
Decorate with spray cheese and crushed Fritos or Doritos if desired.