Our friend Tuany's mom, Rita, came to visit from Brazil and while she was here, we got to cook an old-fashioned feijoada together! Feijoada is a famous beans-and-meat dish of Portuguese origin. It's similar to several old-world bean stews like French cassoulet and Spanish fabada. In Brazil, it's usually made with black beans along with lots of sausages, cured meats, and sometimes ham hocks, pigs' feet, ribs, and/or beef tongue. Collard greens — couve — are the green vegetable.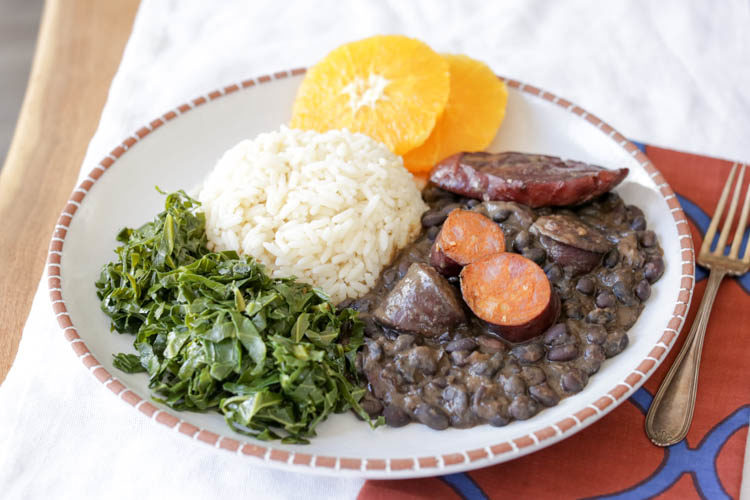 Almost any smoked pork or beef sausage will work here and it's nice if you get a medley of two or three or more varieties. Cut the sausage links into different shapes or sizes so you can differentiate them at the end. We used linguiça and paio.
Linguiça I think is a fairly well-known sausage by now — coarsely ground, heavily paprika-ed, similar to Spanish chorizo — but the paio was something I had never seen before! The texture reminded me of a salted country ham with big, lean chunks of meat inside the casing. It was really good. Worth hunting down, I think.
We also used a package of "feijoada mix" which is odds and ends of bacon and sausages. If you can't get that, some salt pork or thick-cut bacon will do fine.
But, the word comes from feijão, Portuguese for "beans" . . . Never forget that! Ultimately, the beans are the namesake ingredient so if you don't have a Brazilian market nearby, something like kiolbassa, andouille or Spanish (dried) chorizo will do just fine. Get whatever sausages you like and get on with it.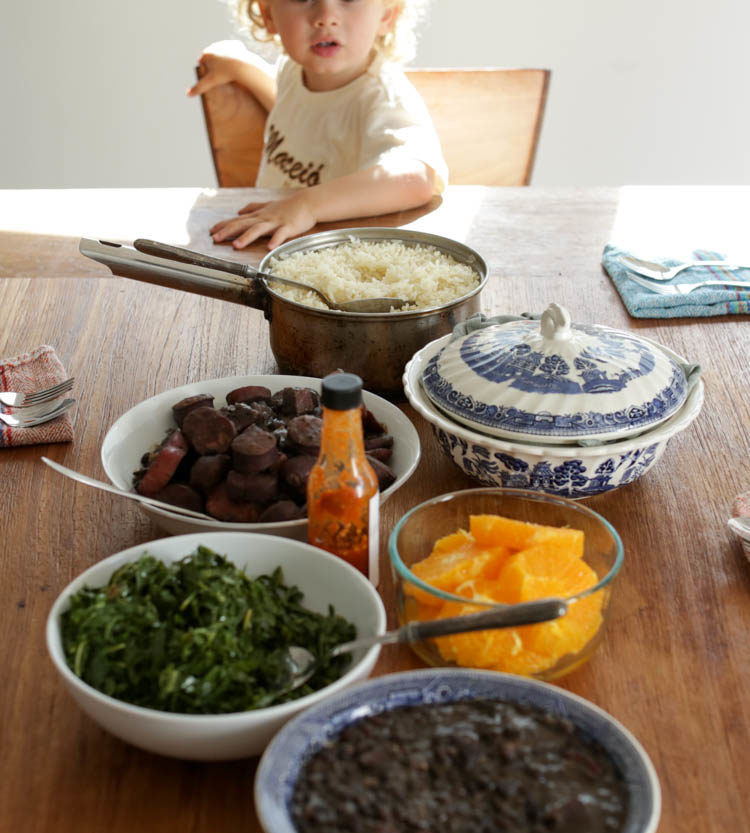 You might notice there is no salt added in the bean and meat pot. That's because there is so much salt in the sausages and bacon. Before you serve, taste the bean broth to make sure it's salty enough.

Sliced oranges are served alongside to aid digestion. And a seasoned, toasted tapioca flour topping called farofa is usually served on top of the rice and beans. I have linked below to some of these ingredients on Amazon if you'd like to try them and can't find them locally.
Feijoada has a reputation for being an ordeal, but it's not so bad. It takes about 3 hours start to finish, but a lot of that time is just sort of waiting for beans to cook so it gives you plenty of time to hang out. There are many dirty dishes at the end, but surely someone at your party likes to wash dishes, right?
If you like, make some pão de queijo (cheese bread!) to keep small children at bay while you cook. And for dessert, try brigadeiro (chocolate candy) because you can make it the day before so that's easy!
Making feijoada with Rita (Video)
Print
Feijoada
Author:
Yield:

8

servings

1

x
Feijoada:
1

pound black beans

24 ounces

mixed, smoked sausages (see notes above) sliced

12 ounces

"feijoada mix" or salt pork, optional

1

onion

3

cloves garlic

1/2 cup

chopped cilantro

1 teaspoon

oil
Rice:
2 cups

parboiled white rice

1

–

2

cubes chicken bouillon

6 cups

hot water, divided
Greens:
2

bunches collard greens

1 tablespoon

oil

2

cloves garlic

1/2 teaspoon

chicken bouillion
Garnish:
Farofa (toasted tapioca flour)
peeled, sliced oranges
Instructions
Soak the beans for 12 hours in enough water to cover them. Drain. Add to a large pot with about 8 cups water. Cover and bring to boil.
Meanwhile, start the rice. Put rice into a medium-large pot with bouillon and 4 cups of hot water. Bring to boil over high heat, then reduce to medium and let it simmer uncovered. Stir occasionally and add hot water as needed. Cook this way for about 15 minutes or until rice is tender. Let simmer 5 more minutes until the liquid has evaporated. Cover and set aside.
Once the beans have come to a boil, boil for 30-40 minutes or until softened. Add the meat. Cook another 30 minutes or until the beans are tender.
In a small pot, saute the onion, garlic and cilantro in the oil for a minute until the onion is fragrant. Add about a cup of the bean-cooking liquid and boil. Turn off heat and let cool.
Begin the collard greens. Wash and remove the stem from each leaf. Stack 4-5 leaves, roll them into a "cigar" and thinly slice to make chiffonade. Repeat with all the greens. Put into a large pot, cover with water, and bring to boil over high heat. Simmer for 20-30 minutes or until dark green.
Once the onion/bean water mix has cooled a little, puree it in the blender. Be careful blending hot liquids. Pour this back into the bean pot and stir. Cook the beans another 30-45 minutes or until the liquid has thickened and become cloudy as the beans break up.
Finish the collard greens: Drain cooked greens in a colander. Saute the garlic and bouillon in a little oil until golden and smelling good. Add greens and stir to coat them. Turn off heat and cover. Set aside.
When the beans are cooked, serve separate dishes of rice, greens, beans and meat so that everyone makes their own plate. Garnish with farofa and serve orange slices afterwards
Amazon Affiliate Links for Ingredients
The Brazilian food that I've had is not spicy. But if you like hot sauces, try one made with Brazilian malagueta chiles, like this one.