What in the HECK is going on here!?? First, minestrone soup, now fettuccine Alfredo? It's like I think I'm Italian or something all of a sudden. But I'm not. And I know it. And I know (yes, I know) that I probably screwed this all up and poor Alfredo is rolling in his grave but GUESSWHATIDON'TCARE!!!
Because it's good. Even yummy. Delicious, I dare say. And it's not that far from the original dish; I'm just being dramatic. Ya know? Like girls do? That's right.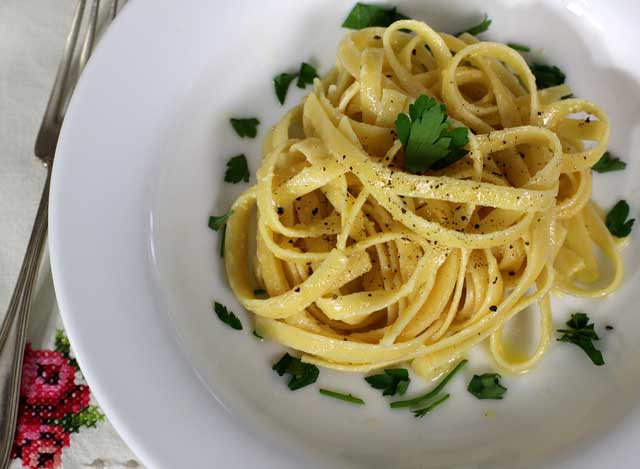 I mentioned in the video another way I used to make this — very non-traditional, but really good — and that was with sour cream, butter, and Parmesan. As I recall, it was about equal parts of each, plus some garlic powder. I'm telling you this because it actually is good and I don't know if you maybe have picky kids or something, but I used to LOVE that when I was a kid and so maybe your kid will, too. Not that I was a picky kid. Good Lord, no. I ate every damn thing in sight.
This makes a fine vegetarian dinner on its own with a salad, but if you wanted to add some steamed broccoli at the end, or toss in some baby spinach leaves just before serving I won't even bat an eye. Grilled chicken breast or shrimp also goes great with fettuccine Alfredo.
Print
Fettuccine Alfredo
8 ounces

fettuccine pasta

1 tablespoon

salt

4 tablespoons

(

2 ounces

) butter

1/2 teaspoon

minced garlic (about

1

clove)

1/2 cup

(

2 ounces

) grated Parmesan cheese

1/2 cup

heavy cream
Instructions
Put on a large pot of water to boil for the fettuccine. Add the salt. When the water boils, add the pasta and set a timer for a minute or two less than the package indicates.
Meanwhile, melt the butter over medium heat in a large skillet.
Add the garlic and let it sizzle for just about 20 seconds, until it smells up the whole kitchen in a good way. Turn off the heat if you need to wait for the pasta.
When the pasta is done (you want it just a tiny bit less done than al dente because it will continue to cook a few minutes in the sauce) drain it quickly — DO NOT rinse — and toss it back into the pot. Don't shake it dry or anything; leave it a little wet.
Add the pasta to the butter and garlic and toss.
Add in the cream and Parmesan and stir it around to coat. Tongs work well for this job.
Let the pasta simmer a few minutes until the cream has thickened and the noodles are well-coated.
Serve with black pepper, red pepper, more cheese, and/or fresh parsley.
Notes
Chicken stock can be used instead of heavy cream for a lighter dish with less fat and calories.