Minestrone Soup Video – scroll down for recipe
It should come as no surprise to anyone familiar with this site that I-talian food ain't exactly my specialty. Not to say I don't like it — I mean what red-blooded American girl doesn't like noodles and cheese and tomatoes and basil and whatever else Olive Garden orders from Sysco? I'M JOKING OBVIOUSLY. Olive Garden gets their pasta and stuff from Tuscany. Der.
ANYWAYZ. I made this soup, and many variations of this soup, quite often when I was single, poor, and vegetarian. I could make a big pot of it with whatever wilty, weird vegetables my roommate left in the fridge and all the broken pasta pieces I could sweep from the floor of the pantry and eat it all week long and still feel like I was eating like a king, or a queen, or whichever royalty figure is better known for drinking an entire bottle of pink wine every night and then raving about dinner.
Traditionally made with Cannellini beans (I think?) and macaroni noodles (also just thinking here) it's good with any type of beans or pasta, especially chick peas, navy beans, and Great Northerns. The vegetables are up to you, too; add cabbage, zucchini, even potatoes or peas and corn. Don't matter. Really as long as you have pasta and beans in it, I think you can still call it minestrone without Sylvia Petrillo showing up to smack-a your face-a. If you happen to have some homemade chicken stock around, too, that makes it extra tasty (though using vegetable broth will make it vegetarian-friendly). If you have fresh basil and grated Parmesan cheese, that's quite a nice addition, but not really necessary.
Minestrone Soup Recipe — Printable!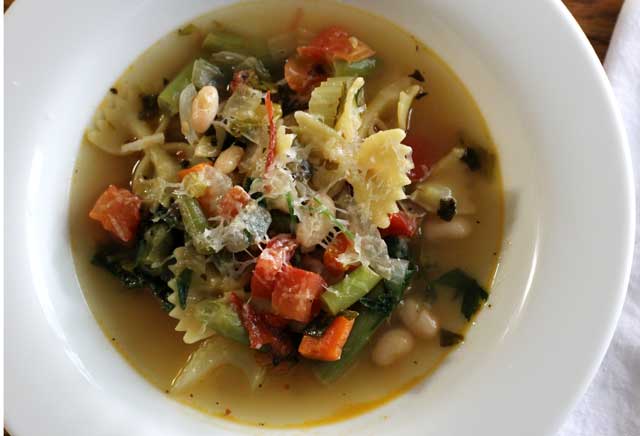 Print
Minestrone Soup
2 tablespoons

olive oil

1 cup

diced onion

1 cup

diced carrot

1 cup

sliced celery

2 cups

fresh or frozen green beans, cut into

1

" lengths

1 1/2 cups

diced fresh tomatoes or

1

15 ounce can

2

cloves garlic, minced

1 tablespoon

dried basil

1/2 teaspoon

dried thyme

1/2 teaspoon

crushed red pepper, optional

1 teaspoon

salt

6 cups

broth (chicken or vegetable)

1 cup

small pasta

1

–

2

cups cooked drained beans

2 cups

fresh spinach or chard, chopped

2 tablespoons

fresh parsley
For serving: Parmesan cheese, fresh basil
Instructions
Heat the oil in a large pot over medium-high heat
Add the onion, carrot, celery, and green beans and saute a few minutes until just beginning to soften and brown.
Add the tomatoes and garlic and spices and stir about.
Ad the broth.
Cover and bring to a boil.
Once boiling , add the pasta and set a timer for however long your package says.
When the timer dings, add the beans and greens and parsley and cook until the greens are wilted.
Serve with grated cheese and/or fresh basil on top.