I surely can't be the only one to whom chicken flautas are a serious, dedicated food love. Corn tortillas rolled tightly around filling of your choice (chicken here, but beef or potato fillings are common) then fried until crispy golden delicious is achieved?? I mean, COMEON.
This video was the second collaboration we did at the Tastemade studios in Santa Monica last week. If you don't already know her, Sara from Average Betty is awesome. Her recipes are solid and her videos are funny. We had a great time cooking together with this flautas recipe and Sara's guacamole. Check out her YouTube channel here!
For more filling ideas, try beef taco filling, Sara's potato taco filling, shredded pork al pastor, even bean and cheese!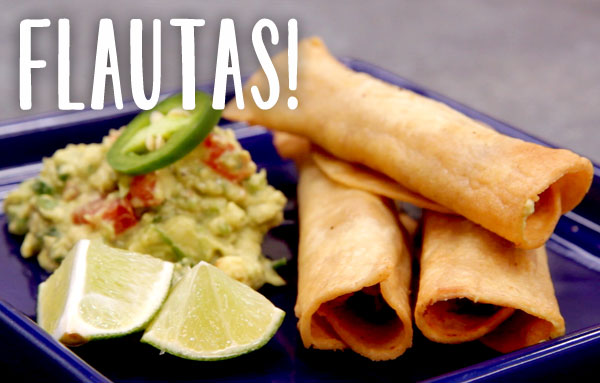 Print
Flautas
Author:
Cook Time:

20 mins

Total Time:

20 minutes

Yield:

4

1

x
8

corn tortillas (might want a few extra in case of cracking)

1

boneless, skinless chicken breast

1/2 teaspoon

salt

1/2 teaspoon

chili powder

1/4 teaspoon

black pepper

1 cup

frying oil (corn, canola, peanut)
Instructions
Poach the chicken breast by putting in a saucepan with enough water to cover along with the salt. Cover. Bring to a boil, then turn off the heat and allow to stand covered, for 10-15 minutes (longer won't hurt, either). Drain and cool.
Shred the meat by hand and mix in the chili powder and black pepper.
Soften the tortillas by microwaving or heating in a dry skillet. If they are not very fresh, you may need to sprinkle with a bit of water. Soft, warm, moist tortillas will roll up tight without cracking; hard, dry or cold tortillas will not.
Place 1-2 tablespoons chicken onto the lower third of a tortilla and roll it up tightly around the filling. The tortillas should be soft and damp enough to stay rolled up, when laid seam-side down. If they pop open, stick a toothpick through the flautas.
Heat the oil to about 350ºF in a large skillet (about 1/2 inch of oil).
Place flautas in the oil seam-side down and fry 2 minutes. Turn and fry another 2 minutes.
Drain and serve with guacamole, salsa, sour cream, or cheese on top.
click here for Average Betty's guacamole recipe!