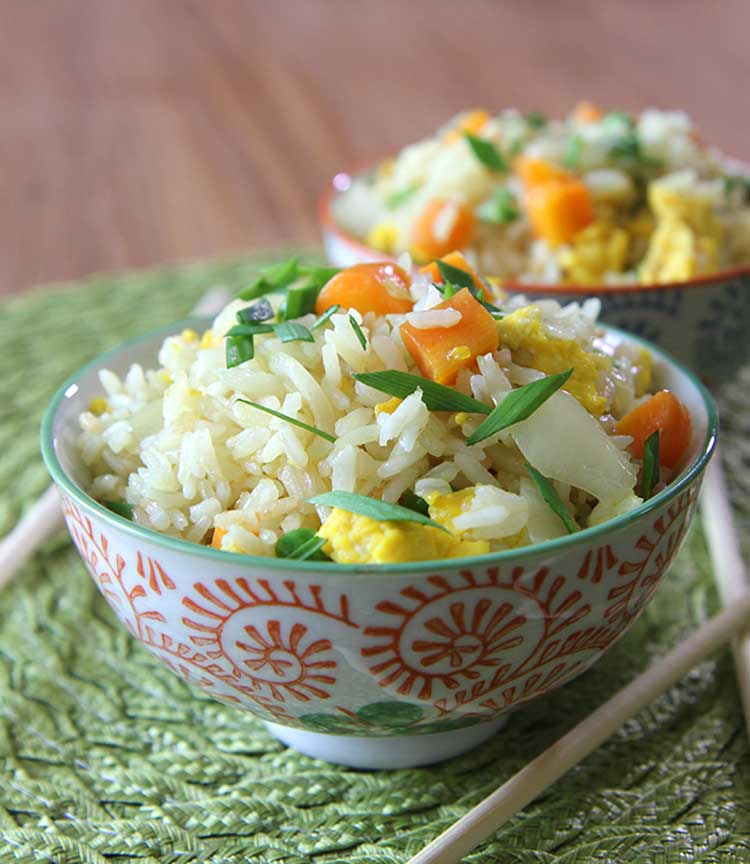 Here is a basic fried rice recipe to jump off from and add whatever vegetable or meat bits you happen to have. Typical Chinese restaurant fried rice (in the US anyway) includes egg, peas, carrots and green onions. Slightly fancier restaurants may also include corn, celery, green beans, and even broccoli. Fried rice is an excellent way to use up anything left in your fridge from the week: chicken, pork, ham, shrimp, cauliflower, even greens can go in it. You can make it without the egg, but it does add that classic "Fried Rice Flavor".
The best rice for fried rice is day-old rice. Cook an extra 2-4 cups of rice a day (or two) before you plan to make the fried rice. If possible, leave it covered in the fridge overnight. Cold cooked rice seems to work a little better than room temperature cooked rice. Also be sure to use long grain rice. Short grain rice will turn to mush in the frying process.
Use the recipe below for the basic technique, then make up your own fried rice recipe! Scroll down to see some more interesting combinations for your fried rice.
Fried Rice Recipe Video (Scroll down for printable recipe)
Fried Rice Recipe – Printable!
Print
Fried Rice Recipe – Pineapple Fried Rice
Author:
Cook Time:

20 mins

Total Time:

20 minutes

Yield:

4

1

x
2 cups

cold cooked long grain rice

2

eggs

1 teaspoon

minced garlic

3 tablespoons

canola or peanut oil

2 tablespoons

diced onion
Optional: 1/2 cup cooked or raw diced meat

1/2 teaspoon

salt

1 cup

frozen peas and carrots, thawed
Dash soy sauce

1/4 cup

thinly sliced green onions or chives
Instructions
Crumble the rice with your fingers to break it up. Set aside.
Beat the eggs well with 1 tablespoon water in a small bowl.
Heat 1 tablespoon of the oil in a wok or large skillet over high heat. Once hot, add the garlic and fry for 30 seconds. Add the eggs and stir quickly until just set, breaking them up into pieces. Remove from the wok and set aside.
Add remaining oil and heat. Add onion and saute 60 seconds. (If using raw meat, add with onion and stir fry until cooked.)
Add rice, salt and peas and carrots (if using cooked meat, add now). Stir constantly until the ingredients are mixed up and heated through, about 8 minutes.
Season with soy sauce.
Add green onions before serving.
Fried Rice Add-In Ideas
These combinations have been tried and tested in my own kitchen. Some of them aren't very authentic, but they are all delicious.
Pineapple Fried Rice: Use fresh or canned diced pineapple in place of the peas and carrots; add red bell pepper, celery, and a pinch of dried thyme. This unusual fried rice combination goes great alongside pork chops.
Shrimp Fried Rice: Add 1/2 cup finely shredded cabbage with the onion; 1 cup cooked small shrimp with the peas and carrots; season with 1 teaspoon oyster sauce at the end
Veggie Fried Rice: Omit egg if desired; add 1 cup steamed broccoli florets; 1/2 cup chopped steamed green beans; 1 cup fresh bean sprouts
Texas Fried Rice: Omit egg; add 1 cup barbecue brisket or pork, finely chopped; add 1-2 tablespoons minced jalapeño with the green onion
Thai Fried Rice: Add 1 cup cooked chopped chicken; add 1 tablespoon lime juice, 2 teaspoons fish sauce and a pinch of sugar at the end; serve with chili sauce and fresh cilantro
And don't forget the egg rolls! Try my egg roll recipe.