From what I gathered on the internet, the egg rolls you find at Chinese restaurants are evolved from the more delicate spring rolls actually found in China. Spring rolls are so called because they are served in the spring time, and at Chinese New Year. Egg rolls are so called because the wrappers (or "skins") are made with egg; spring rolls wrappers are not. Story goes that Chinese immigrants to the US came up with a spring roll recipe more acceptable to American palates: bigger, coarser, meatier. Egg rolls, like chop suey and General Tso's Chicken are "Chinese" recipes invented by Chinese-Americans and then copied the nation over. This egg roll recipe is a fine rendition of those Chinese restaurant egg rolls.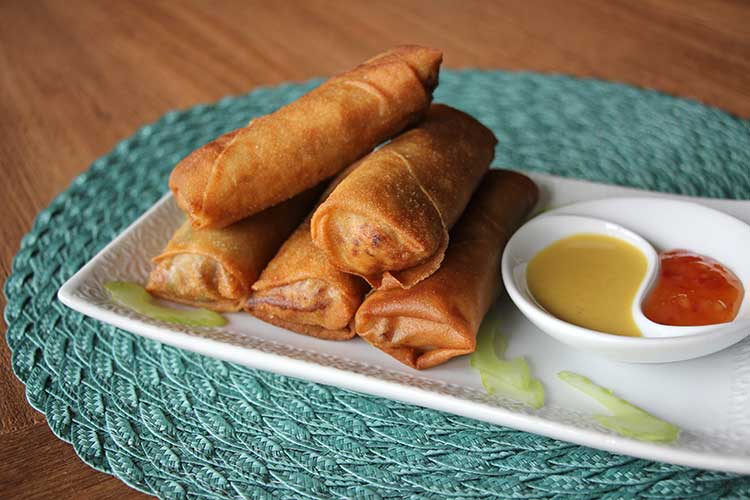 Regardless, egg rolls are damned delicious and relatively simple to make, too. The only potential hiccup is the cooling time required for the filling. If you can, go ahead and make it a day or two before you need to to save time the day of frying.
Uncooked eggrolls don't hold very well, but you can fry, cool, and freeze them for later consumption (the eating, not the ancient disease). Reheat in a dry skillet over medium heat, turning them as necessary to get warm and crisp. You can also reheat on a rack in the oven at 400F for about 20 minutes. Serve hot egg rolls with soy sauce, sweet chili sauce, and/or Chinese hot mustard.
Egg Roll Recipe Video (scroll down for printable recipe)
Egg Roll Recipe – Printable!
Print
Egg Roll Recipe
Author:
Prep Time:

1 hour

Cook Time:

30 mins

Total Time:

1 hour 30 minutes

Yield:

2

0

1

x
1/4 ounce

dried shiitake mushrooms

1/2

pound ground pork or turkey

1 tablespoon

cornstarch

1 tablespoon

soy sauce

1 tablespoon

minced garlic

1/2 teaspoon

minced ginger

1 teaspoon

brown sugar

1/4 teaspoon

salt

1/4 teaspoon

white pepper

1 tablespoon

oil

2

stalks celery, minced

1

medium onion, minced

1/2

pound Napa cabbage, thinly sliced

1 tablespoon

flour

1

can water chestnuts, minced

20

egg roll or spring roll wrappers

1 tablespoon

flour +

1 tablespoon

water, mixed together
Peanut oil for frying, 1-2 cups
Instructions
Cover the mushrooms with water and let soak 1 hour. Drain and mince.
Mix the pork in a bowl with cornstarch, soy sauce, garlic, ginger, sugar, salt, pepper. Set aside.
Heat oil in a large skillet or wok. Saute the celery and onion over high heat 60 seconds. Add pork mix and saute, stirring quickly until pork is cooked and in fine crumbles. Lift mixture out of the skillet and spread onto a platter to cool, leaving liquid in the skillet.
Add a little more oil if necessary and add cabbage to the skillet. Saute 2 minutes until softened.
Turn off the heat and mix in the flour, water chestnuts and mushrooms. Transfer to a bowl.
Refrigerate meat and cabbage mixtures until cool. Combine when ready to make eggrolls.
Place a wrapper in front of you, one corner pointed at you. Keep the stack of remaining wrappers on a plate covered with a damp towel so they don't dry out.
Spoon about 1/4 cup mixture into the center of the wrap and shape into a rectangle about 3 inches long.
Fold the bottom corner up and over the filling, then fold in the sides over that. Gently pack the mixture inside.
Rub some of the flour + water slurry along the edges of the top corner and roll the egg roll closed to seal.
Place on a plate, seam side down, as you roll them. Don't roll more than you are able to fry in 10-15 minutes or the filling will begin to soak through the wrappers.
Heat 1/2″ oil in a heavy skillet to about 365F.
Frey egg rolls 1-2 minutes on each side until golden brown.
Drain rolls upright in a bowl lined with paper towels.
Notes
Warm filling also makes a great filling for lettuce wraps!
Nutrition
Serving Size:

1

Calories:

220

Fat:

12

Carbohydrates:

20

Protein:

6
For a "real" "Chinese" meal, try these with Tofu Stir Fry or Beef and Broccoli!