Gazpacho Recipe Video – scroll down for printable recipe
Subscribe to my YouTube channel to get notified of new videos.
I got this gazpacho recipe from a friend in Spain, at the same time he taught me to make seafood paella, actually. It took me a long time to make gazpacho, clearly, but once I finally did, I felt like an idiot for waiting so long. If you live in one of those "hotter than Hades" climates, you will appreciate a cold glass of gazpacho more than anyone. And if you can get some ripe, red homegrown tomatoes to make it with, then you'll be even better for it.
This gazpacho was titled Gazpacho Andaluz, or Andalucian gazpacho, and it doesn't have bread in it. All the recipes I'd seen included some bread, for texture I imagine, but this one has no bread but relies on the emulsification of olive oil to thicken it. It becomes almost like a salad you can drink, or like a really, really, really good version of V-8.
Gazpacho keeps in the fridge for up to a week, but I bet you'll finish it before then. It may separate but just give it a stir before serving. If you like, you can serve it as a cold soup in the traditional way, topped with finely diced vegetables (onion, bell pepper and cucumber) and a few croutons. A thermos of cold gazpacho would also be nice to take along on a picnic of sandwiches or charcuterie. Don't forget the sangria!
Gazpacho Recipe – printable!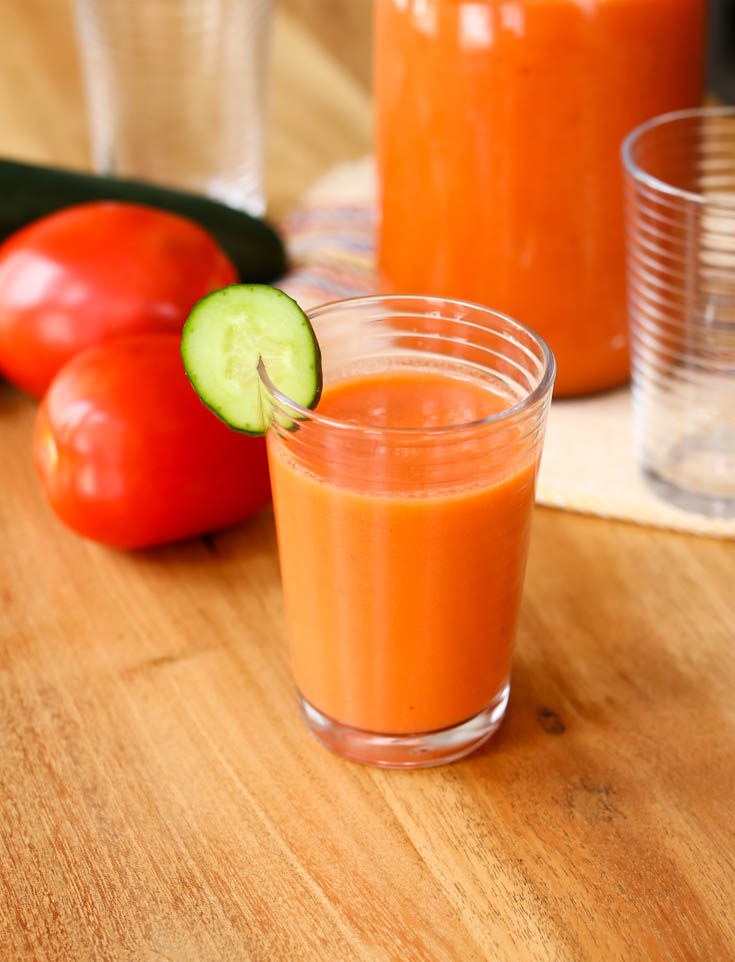 Print
Gazpacho Andaluz
4

Roma tomatoes (

1

pound)

1

cucumber

1/2

green bell pepper

1 cup

ice water (or literally ice + water like I prefer)

2 tablespoons

red wine vinegar

1/2

clove garlic

1

pinch cumin seed

1 1/2 teaspoons

salt

3 tablespoons

olive oil
Garnish: croutons, diced cucumber, diced onion, bell pepper
Instructions
Core tomatoes and pepper; peel cucumber. Coarsely chop all.
Puree everything except the oil in a blender. With the blender running, add the oil slowly to emulsify.
Strain and refrigerate until cold.
Serve in small glasses as a drink, or in bowls garnished with croutons and more cold, diced vegetables