Ginger Fried Chicken Recipe Video (scroll down for printable recipe)
I ordered ginger fried chicken at a restaurant in Hawaii and I've thought about it ever since. It's so simple to make. Marinate chunks of boneless chicken (skinless or skin-on, whichever your preference) in lots of ginger, garlic, soy sauce and a little vinegar then dredge in flour and cornstarch and fry. Use white or dark meat, they both turn out delicious.
The trick to getting the breading to stay on is to coat the chicken fully, until it's all white. Then — the important part — let it sit until the white turns brown. You'll see what I mean when you do it. About 5-10 minutes after coating, the  residual marinade on the chicken absorbs the flour, effectively gluing it to the chicken. When you fry — second most important part — use a thermometer to make sure the oil stays around 350ºF (180ºC) the whole time. Oil that is too cool will not only produce greasy fried chicken, it can also cause the breading to fall off. And no one is interested in naked, greasy chicken.
Serve this like you might find it in Hawaii, with a side of macaroni salad. Or go lighter to balance the chicken with a big salad, like this Winter salad.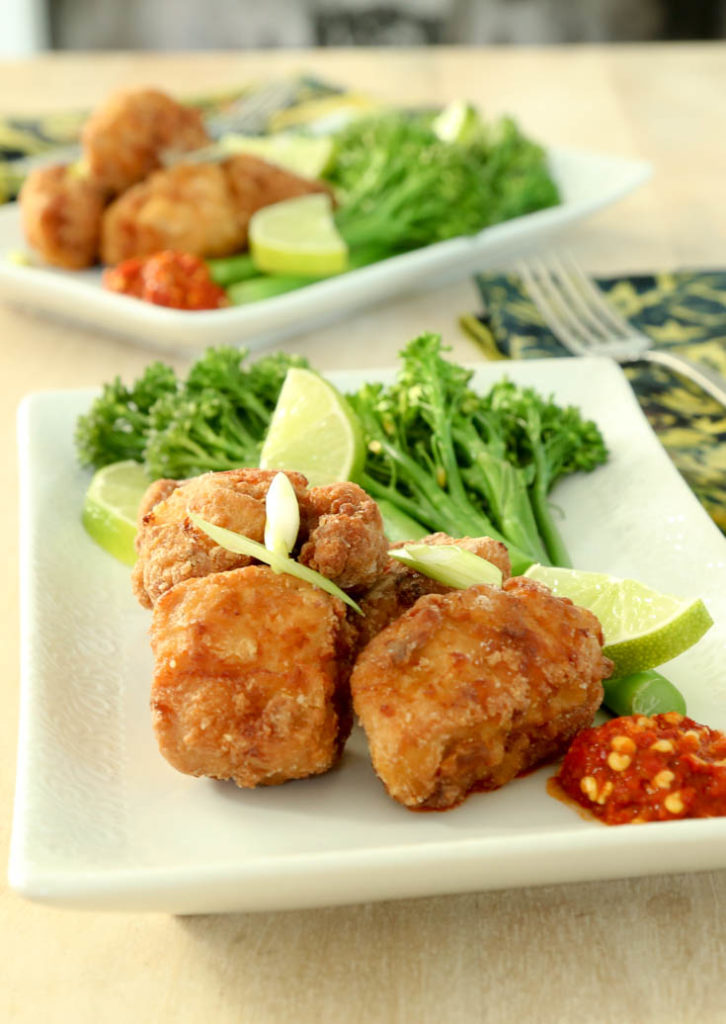 Ginger Fried chicken Recipe
Print
Ginger Fried Chicken
Author:
Prep Time:

30 mins

Cook Time:

15 mins

Total Time:

45 minutes

Yield:

4

1

x
1

clove garlic, minced

1 tablespoon

minced ginger

1/4 cup

soy sauce

2 tablespoons

rice or cider vinegar

1 teaspoon

brown sugar (optional)

1

pound boneless chicken

1/2 cup

cornstarch

1/2 cup

AP flour

1 teaspoon

salt

1

–

2

cups oil for frying

1

lemon or lime, cut into wedges
Instructions
Combine garlic, ginger, soy and vinegar in a bowl. Cut chicken into pieces about 1-1/2 inches square. Allow to marinate at room temperature at least 15 minutes and up to an hour.
Meanwhile, combine cornstarch, flour, salt in a shallow bowl.
Drain marinate from chicken (it's okay if bits of garlic and ginger stick) and coat each piece in the flour mixture. Transfer to a plate and let sit for 10 minutes.
Heat 1/2 inch of oil to 350ºF and fry the chicken in two batches, about 6 minutes each.
Serve with lemon wedges and steamed broccoli.
Serve this with steamed vegetables for a fairly quick and painless meal. You can prep the vegetables while the chicken marinates and steam them while you fry the chicken. Ginger fried chicken is also a bang-up salad topper! I served it on a salad of Napa cabbage, steamed broccolini, and Romaine lettuce; dressed simply in lime juice and sambal oelek. Here's a picture from my Instagram: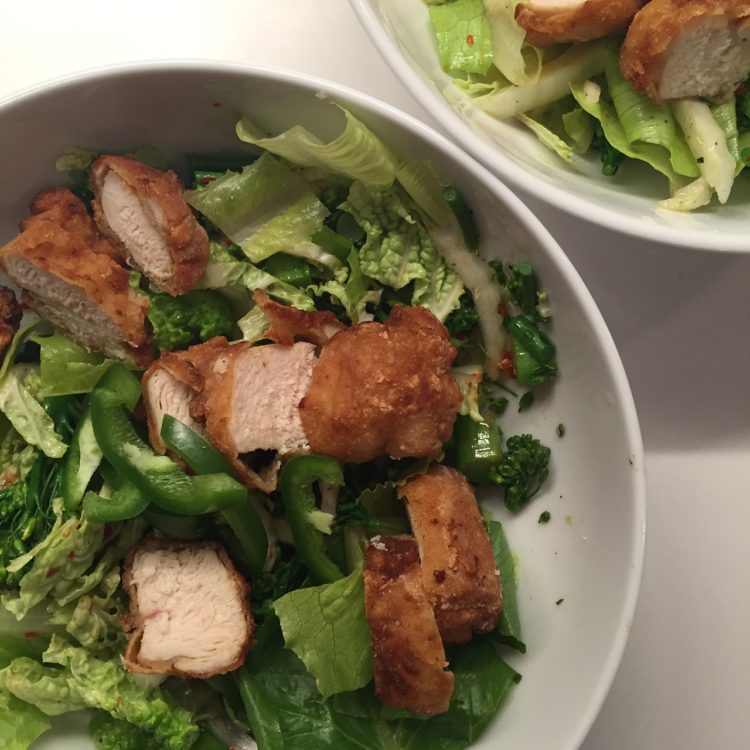 This is the thermometer I use and LOVE (affiliate link)