Green Chili Macaroni and Cheese
Green Chili Macaroni and Cheese video – scroll down for recipe
Subscribe to my YouTube channel to get notified of new videos.
After all the Valentine's Day lovey-dovey, romancy-pantsy, French, Italian, aphrodisiac and chocolate recipes have come and gone their merry way, all I want to eat in February is old-fashioned American grub. This green chili macaroni and cheese hits the spot and then some.
If you want to substitute 8 ounces of caned green chilies that will work fine; just skip the saute step and add them (drained) when you add the garlic. Any kinda cheese'll do, too. I like pepperjack and asadero. You might like cheddar. An aged cheese will work better in the cheese sauce than a fresh cheese like cottage cheese – young cheeses get stringy and don't melt smooth. And that ain't right.
Green Chili Macaroni and Cheese recipe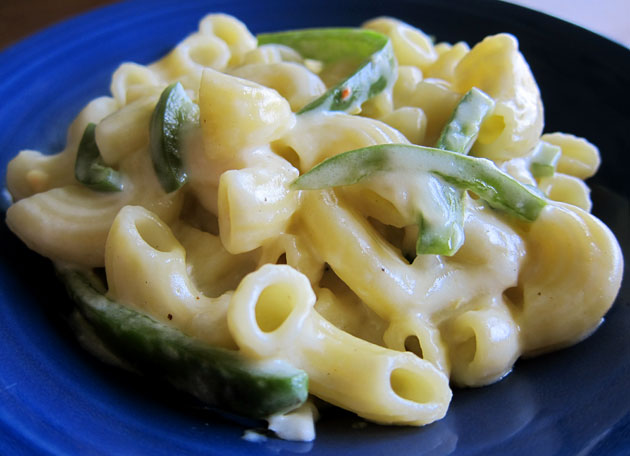 Print
Green Chile Mac\'n\'Cheese
2 tablespoons

butter

1/2 cup

diced onion

1

poblano pepper, or

4

jalapenos, seeded and diced

1 teaspoon

garlic

2 tablespoons

flour

1 cup

milk

1/4 cup

sour cream

1 cup

grated cheese
salt and pepper

1/2

pound macaroni

1 cup

pasta cooking water
Instructions
Start a pot of water for boiling the pasta. Cook the pasta only for about 80% of the suggested time on the package for al dente.
Melt the butter in a medium saucepan and saute the onion and pepper until softened, about 5 minutes over medium-high heat.
Add the garlic and stir 30 seconds.
Add the flour and combine well. Cook for 60 seconds.
Add half the milk and reduce heat to low. Whisk to combine.
Add the remaining milk and simmer a minute or so until thickened.
Add 1/2 cup pasta cooking water, salt, pepper, and sour cream. Mix well.
Add half the cheese at a time and stir until completely melted.
Drain the pasta and combine with the sauce. Add the remaining 1/2 cup pasta cooking water if it seems too thick.
Cover the pot and simmer 5 minutes to get the sauce absorbed into the pasta and pasta is completely cooked.
Serve as is, or put it into a casserole dish with buttered bread crumbs on top and bake at 350 for 10-15 minutes for a crispy topping.
Subscribe to my YouTube channel to get notified of new videos.