Grilled Corn on the Cob – Elotes!
Grilled Corn on the Cob Recipe Video (scroll down for recipe)
Subscribe to my YouTube channel to get notified of new videos.
GUYS. I learned how to make grilled corn on the cob, Mexican-style I mean. The kind, you know, it's smoky and grilled and cheesy and creamy and lime juicey and salty and a little spicy and just pretty much the ONLY way to eat corn-on-the-cob, amiright? Truth is, though, there's a good chance you know not of what I speak about and that the idea of putting cheese and mayo on grilled corn on the cob makes your tummy turn over … in its grave. Because you're dead. And I am to blame for making you so grossed out.
But it's not like that.
Elotes as we call it around here in Texas — as well as Mexico and all over Latin America, yes — is believed to be the the world's finest fresh sweet corn preparation known to man or even to the aliens that may have populated the earth since the decades when the Maya ruled. In Spanish, an elote is an ear of corn. Typically, those ears of corn are roasted and served this way, with a generous coating of a creamy lime sauce, topped with cotija cheese, and sprinkled liberally with Tajín which is a Mexican seasoned salt comprised of chilies, salt, and dehydrated lime juice. In lieu of Tajín, make your own mixture of chili powder and salt and add an extra squeeze of lime to your elote. Elote en vaso is the same roasted corn, that has been sliced from its cob and piled into a cup with the sauce, cheese, and chili poured all over the top. It's easier to eat, for sure, but not as fun. Eating corn right off the cob has always been and will always be my favorite way to eat corn and not just because I get to make typewriter noises while I eat it.
For the sauce, you can use either mayonnaise or Mexican crema, which is thin soured cream, similar to creme fraiche, but pourable. Crema is what is used in Mexico. Mayonnaise is probably more common in central Texas. Either way you want to play it.
A couple weeks ago, my friend Carlos (you may remember him from the vegetarian enchiladas banderas recipe!) came over and showed us how he learned to grill corn in Guadalajara. So good! I think he was a little disappointed that I had mayo instead of crema, but he never showed it. The corn was dope anyway. Thanks, Carlos!
Grilled Corn on the Cob (Elotes) Recipe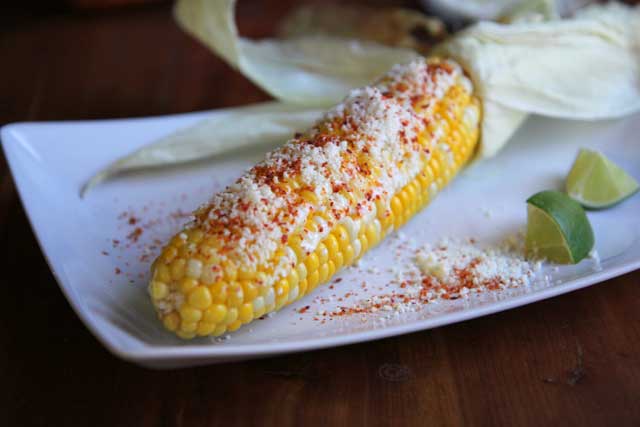 Print
Grilled Corn on the Cob – Elotes!
Author:
Prep Time:

30 mins

Cook Time:

30 mins

Total Time:

1 hour

Yield:

8

1

x
8

ears of corn

1/2 cup

crema or mayonnaise

2

limes

1/4 cup

cotija
Tajín or chili powder
Salt
Instructions
Soak the corn, husks and all, in water for 30 minutes to an hour while you prepare your grill. You'll want a medium-hot grill (350-400ºF) set up for direct heat cooking.
Mix the crema or mayonnaise in a small bowl with the lime juice, a tablespoon of the cotija, and a little salt. Refrigerate.
Grill the corn for 10 minutes on each side, turn once.
Remove (replace the grill cover to keep the heat in) and quickly strip away most of the husks. Leave one or two layers of corn husk and don't worry about the corn silk. That comes off later.
Place the near-naked ears back on the grill for 5 more minutes on each side.
Now husk completely. The silk should fall away easily.
Brush the corn with the creamy lime sauce, sprinkle with cheese and chili powder or Tajín and serve hot. It's even delicious at room temperature, so don't worry too much about serving time.
For the only other grilling episode we've ever done, check out the post on how to make tacos al pastor. SEE! My terrible haircut circa 2010! HEAR! How incredibly awkward I used to be on camera! WATCH! As I stand outside in 100 degree heat over a smoky hell pit! (And that is why we have only ever done 2 grilling episodes, ever. I complain a lot.)