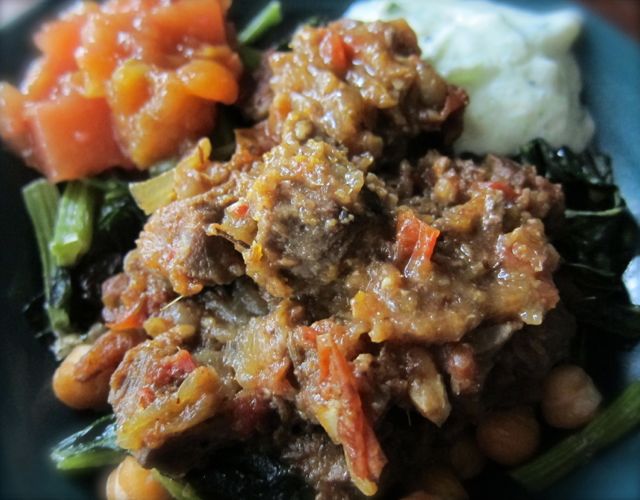 The other morning, as we had coffee and breakfast, I asked Chris what he thought he might want for dinner. RED MEAT. He kind of hulked-out for a second and his voice got gravely and he forgot how to use pronouns. "Whoa whoa whoa!" says I, "Relax. I got this. You might need to change your shirt before you head to the office, buddy. Looks like your trapezius blew a seam."
So after he was off, I got to work. I had some lamb stew meat in the freezer and a whole jar of this West Indian pepper sauce I made a while back and totally forgot about in the fridgerator. Blammo. It's experiment-time.
Print
Habanero Lamb Curry
A slow-simmered, spicy Jamaican-style lamb curry
1 teaspoon

oil

1

large onion, small diced

2 teaspoons

cumin seeds

1/2 teaspoon

dry mustard

1

pound lamb stew meat

2

large cloves garlic, minced

1

large tomato, diced

1/2 teaspoon

salt

1/2 cup

West Indian pepper sauce (my recipe or something similar)
Instructions
Heat the oil over medium-high heat and saute the onion until translucent.
Add the spices and fry another minute.
Add the lamb and garlic and stir to combine.
Add the tomato and salt and 1/4 cup of the pepper sauce and 1/2 cup water.
Cover tightly and simmer 2 hours or until the lamb is tender. You may need to add more water to prevent sticking.
Add the remaining 1/4 cup pepper sauce and serve.
I served this with a chickpea and greens dish I'm working on for my first commercial client job (!) and the tsatsiki from page 123 of the Learn to Cook Book and this nectarine chutney I posted on the community forum!