Healthyish German Chocolate Truffles
Sweetened with just maple syrup and full of good fats from coconut and pecans, these no-cook German chocolate truffles hit all the spots! And guess what: if you use almonds instead of pecans they become Almond Joy truffles in a cinch.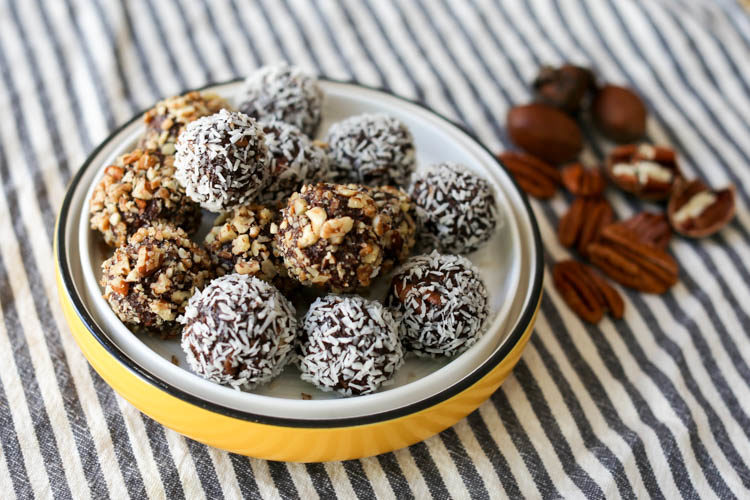 I'm really not sure what else I need to say about these. You're probably going to love them. Any children you feed them to are certainly going to love them. And they are so so sooooo easy that even a baby could make them. The end. Just go make them!
(But if you have some Q's about the ingredients . . . be sure to use unsweetened coconut flakes — find them in the bulk section and Bob's Red Mill sells them pre-bagged — and Grade B maple syrup — it's cheaper than Grade A and it has more maple flavor.)
Print
Healthyish German Chocolate Truffles
3 tablespoons coconut oil (I use virgin, unrefined)
1/3 cup cocoa powder (1 ounce weight)
1/3 cup maple syrup
1 1/4 cups unsweetened coconut flakes (3 ounces weight)
1/2 teaspoon vanilla extract
1/4 teaspoon salt
1/2 cup toasted chopped pecans (2 ounces weight)
Instructions
Heat coconut oil in the microwave or in a double boiler for a few seconds until melted.If your maple syrup is cold from being in the fridge, you may need to heat that up with the oil, too.
Add remaining ingredients and mix well. It will be fairly stiff.
Chill
Once firm, roll into small (1 tablespoon or less) balls and dust with extra coconut flakes or pecans if you want.
Keep refrigerated in an airtight container for up to 10 days. (Probably longer, but we've never had them around longer than that.)
Nutrition
Serving Size:

1

Calories:

78

Fat:

7

Carbohydrates:

7

Protein:

1