HHH011 Interview with Lynn Chen
Lynn Chen is an actor, a writer, and a body image activist. I met Lynn when I moved to Los Angeles a couple years ago and she reached out through email, we had lunch together, and became quick friends. In addition to her YouTube channel which mostly explores different restaurants around LA, she also hosts a monthly podcast called The Actor's Diet podcast (listen to my episode here!).
You might recognize her from the award-winning — and groundbreaking — film Saving Face (Vivian) or from her roles on Law and Order (Jenny Wu) or Silicon Valley (Grace Melcher) or All My Children (Regina). In this interview we discuss how she started acting, how she recovered from an eating disorder, Chef Boyardee, and my new favorite deodorant.
Follow Lynn on Twitter | Instagram | YouTube | Facebook | Website
Show Notes: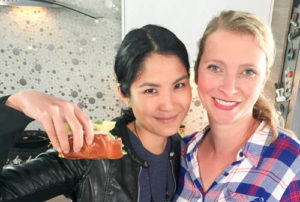 Metropolitan Opera House
Pagliacci and sugar cones
Rudolf Nureyev
Lynn Chen is not a ballet dancer
National Eating Disorders Association (NEDA)
Binge-eating
Food blogging as healing (The Actor's Diet blog)
Avocado toast at Superba (review)
Chef Boyardee's granddaughter, Anna Boiardi
Lynn's dad's Taiwanese pork chops recipe (So good!)
Method-acting with food
Call of Duty Black Ops III – Goh Xiulan
Why open floor plans suck
YPOK2 (listen to Winter Games!)
Watch Lynn and me make wieners!