Hilah vs. The Texas Rollergirls
Okay, okay, okay, so I know I'm supposed to be on vacation right now.
But dig this.
The Texas Rollergirls asked me to do 'em a favor and I could not refuse. You'd have to be a FOOL to refuse a favor asked of you by the Rollergirls. Do I look like a fool to you?
Hell Naw. I didn't think so.
So what they asked me to do is help come up with the Official Drink of the Rollerderby. Much like the Kentucky Derby has a drink (the Mint Julep), the Rollerderby also deserves one to call their own.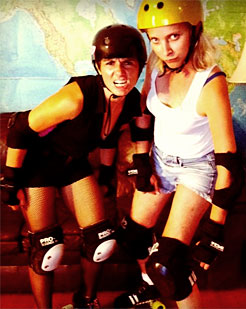 I met a few of these Rollergirls in a dark, secluded bar one afternoon and there we spoke in hushed voices of a thing called a Pickleback. The Pickleback is less of a cocktail and more of a wild and wacky way to chase shots of whiskey, which is the generally- preferred liquor of Rollergirls across the state. (Also happens to be my favorite liquor so that's how come we got along so well I guess.) Now of course, those of you wizened to the world of cocktails will know that the Pickleback is not something I invented nor would I try to claim that genius.
As the legend goes, the Pickleback was invented in New York City, which makes perfect sense to me, given the high concentration of delis there, all of which serve pickles and therefore would provide the fine city with an abundance of pickle juice, which is what comprises the other half of the Pickleback if you haven't yet figured that out.
So basically we're talking: shot of whiskey then shot of pickle juice.
But that's not really how we roll (pun not exactly intended but I'm keeping it). We hadda make that drank TEXAN, goddamnit! Somehow we had to make it special. So, sitting in the bar sampling various whiskeys, bourbons, and pickle juices, someone hit upon the BRILLIANT idea to add hot sauce. (Honestly, it may have been me but it could have just as easily been someone else. I dunno. We were taking shots in the afternoon, did I mention that?) And, of course this amazing bar that had pickle juice on hand also had Tabasco. Yes, I realize Tabasco sauce is from Louisiana and not Texas, but just go with me here. Texas = Spicy. There.
Anyways, we threw a few dashes of Tabasco into our pickle juice and voila! The Official Drink of the Texas Rollergirls: The Spicy Pickleback.
Maybe we should come up with a new name for it.
The Tickleback?
Help me out here, people. Any suggestions will be given serious consideration.
POST SCRIPT: I thank you all for your brilliant, funny, thoughtful, intelligent suggestions, but the one, true name that has been begotten this drink is The PickleSmack. Enjoy!