How to Make a Mint Julep Cocktail
how to make a mint julep cocktail – scroll down for recipe
"Mint Juleps are a refreshing and nutritious way to use up the abundance of mint in my heirloom mint garden!" Just kidding! Psy-ych!!!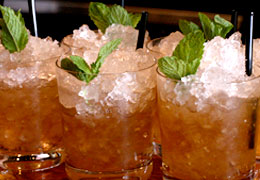 But mint juleps are a refreshing and delicious way to use up all the whiskey in your liquor cabinet and your neighbor's liquor cabinet if you aren't careful. These shits are crazy good — and classy.
Drink them while playing bocce ball in your front yard; put on a big hat and some white shoes while you're at it; once you're good and drunk, get out a grammar book and teach yourself the proper uses of the semi-colon. That's what I do.
Make a Mint Julep – recipe card
Print
Mint Julep Cocktail
For each cocktail you will need:

8 ounce

highball glass

4

–

5

mint leaves

1/2

–

1

teaspoon of sugar, or to taste
crushed ice

2 ounces

bourbon
Instructions
Put the mint and sugar in the bottom of the glass and muddle it around with a muddler, a spoon, or your cell phone (kidding) until the mint is bruised and battered.
Add 1/2 ounce of bourbon and stir to dissolve the sugar.
Pack the glass with crushed ice and top off with the remaining bourbon.
Get HAMMERED.
Notes
You could make a pitcher of this and serve in individual crushed-ice-filled glasses, but you run the risk of ruining your friends' lives if you do that.
And if that ain't enough for you, try another great summer drink: The Pimm's Cup!