Homemade Soft Pretzels Recipe Video – scroll down for recipe card
If you've never made soft pretzels, especially if you like soft pretzels, you should give it a try. Soft pretzels are surprisingly easy. At least, I was surprised. I learned how to make these when we shot a video at Easy Tiger bakery in Austin. Of course, at Easy Tiger they use the traditional lye bath but since lye is kind of hard to get your hands on (and can be hazardous) I use baking soda.
Actually, baked baking soda. By cooking the baking soda at a low temperature in the oven, it becomes slightly more alkaline that it began. It's not as alkaline as lye, but it does add a golden crust and most importantly, the identifiable "pretzel taste" – sort of salty, sort of soapy. That doesn't sound great but once you taste these I think you'll know what I mean.
If you want to make these ahead of time, the dough can be covered and refrigerated overnight after kneading. Baked pretzels are best served the same day. And also best served with mustard or pimento cheese for dipping.
Check out the video we made with Easy Tiger to learn more about pretzels!
Homemade Soft Pretzels Recipe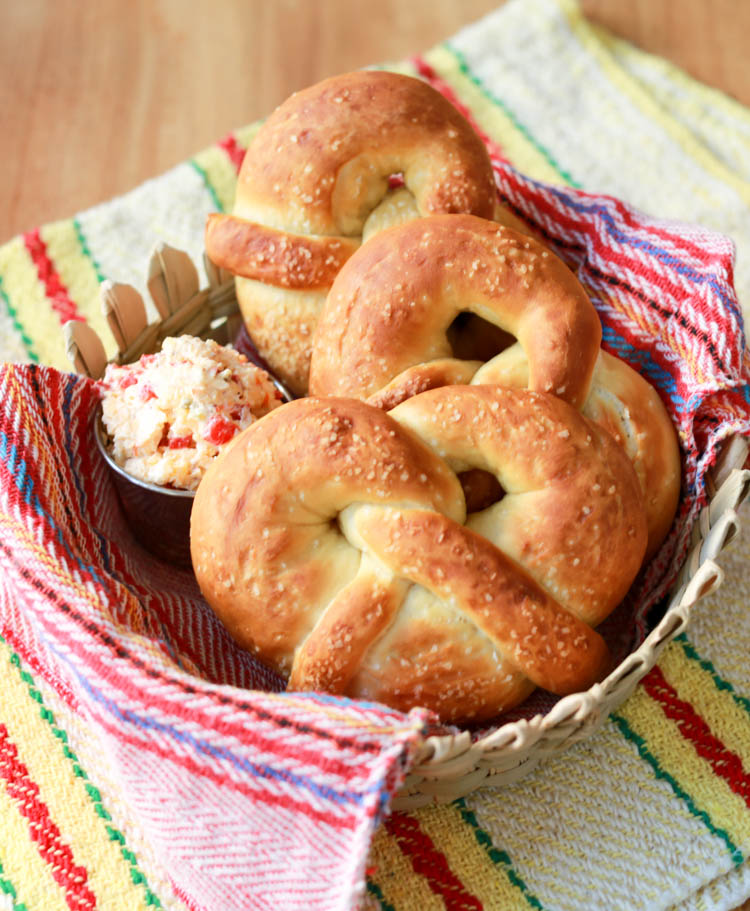 Print
Homemade Soft Pretzels
Author:
Prep Time:

90 mins

Cook Time:

12 mins

Total Time:

1 hour 42 minutes

Yield:

8

1

x
For the "bath":

4 cups

warm water

1/2 cup

baking soda
For the pretzels:

1/2 cup

warm water (100-115ºF)

1 tablespoon

brown sugar

1

package active dry yeast (

1/4 ounce

)

3 1/4 cups

bread flour

1/2 cup

beer (lager preferred)

2 tablespoons

soft butter (plus a little more)

2 teaspoons

salt

2 tablespoons

Kosher or flaked sea salt for sprinkling
Instructions
For the baking soda bath: Line a small baking sheet with foil and spread the baking soda on it. Bake in a 250ºF oven for one hour while you make the pretzel dough.
For the dough: In a large mixing bowl (hopefully a stand mixer with a dough hook attachment) combine the warm water and sugar; stir to dissolve. Sprinkle in the yeast. Allow to sit for 5 minutes to proof the yeast. It should look foamy after 5 minutes. If not, your yeast may be old or your water was too hot.
Add the beer, butter, and flour and mix to bring together. Add the salt.
Knead on low speed for 5-7 minutes until a firm, elastic dough is formed. If, after 1-2 minutes of kneading, a ball is not forming you can add a tablespoon of water. You should end up with a ball of dough that is moist but not sticky.
Rub a little more butter all over the dough ball, place back into the bowl, and cover with a damp cloth or plastic wrap. Set aside to rise for 30 minutes (or refrigerate covered in plastic wrap overnight).
Line two baking sheets with parchment paper.
Cut the dough ball into 8 portions.
On a clean, dry surface, roll each into a tapered snake, 24-28″ long. The center "belly" of the snake should be about 50% fatter than the ends. Don't flour the surface. You need some friction to properly stretch the dough. In fact, if it refuses to "grip" the surface, dampen your hands with water and then continue rolling out.
Bring the ends of the snake up, twist them once, then lay them down onto the "belly" to make a pretzel shape.
Place on a parchment paper sheet.
Now in a wide, deep nonreactive dish, whisk the baked baking soda and water to dissolve. Add the baking soda a little at a time to prevent it from clumping up.
One by one, carefully transfer the pretzels into the water bath, turning once. Each side of the pretzel should be in the water for 10 seconds. Remove with a slotted spoon and lay on the baking sheet lined with parchment. (You will need two trays or bake in two batches.)
Sprinkle with Kosher or sea salt while still wet.
Allow to rise 30 minutes while your oven heats to 475ºF. Arrange your oven racks to the middle and upper third.
Bake 8-12 minutes until dark brown, rotating pans halfway through.
Try my pimento cheese recipe to go with these!